Tales from the Woods
21-05-2010

Accro Bike 56K BBW Special
Took a day off from work today and why not use it to do something you really like? So I set out around 10.30am for a loop along the Accro Bike trails. As many of you know the trails around Grez Doiceau and Chaumont Gistoux have not a lot of secrets left for me. I like biking here and starting from an organised ride my club - Royal Velo Club Ottignies Blance Gilets - used to host a long way back I have developed a trail that encompasses 56K and in its present form close to a 1000 heightmeters. Every time I ride these trails I find something new I want to add, or replace a section with another track. Usually these small changes add to the technicality and sheer difficulty of the ride. The region is only mildly hilly - some might even think it as being below their standards - but it usually only takes one ride here for them to change their minds. The landscapes are very beautiful - even more so in the splendid sun - and the calories are burnt very fast.
The ride went fine - you can follow the exact trail by clicking on the link below - I only had a little snag with my Edge 705 when it decided to turn itself off when I asked it to recalculate the trajectory I was following. Luckily it turned out nothing was lost so I have the complete ride to share with you lot. When you go and ride this track bear in mind that there are not a lot of places to stock up on food or drink along the way, so you better come prepared. Also bring your best set of legs because the hills may be short, they are plenty and some are really steep.



But the dry weather of the last couple of weeks turned out to be a blessing for trail conditions. Everything was dry . The bike coped fine and the only care that needed to be taken was during the many downhills were ruts, loose sand and fallen trees could become very dangerous to the unwary or the overexited. When I arrived back home I wasn't surprised to see more than 1200 heightmeters.




Ride Stats : 82K and 1130/1250 heightmeters (Polar/Garmin) in 4h50mins

3667/38130
21-05-2010, 20:04 geschreven door Big Bad Wolf
19-05-2010

Recovery
Another recovery ride this evening. Temperatures were still fine and the wind was still blowing strong. I wanted a bit more kilometers so I set out over Heverlee and Egenhoven towards Bertem and then followed the Voer valley until Vossem and Tervuren. There I paused for a picture before heading towards Overijse .
The legs felt fine and I let them do many revolutions, focussing on high frequencies instead of strenght. I got passed by a lot of roadies but that didn't bother me. I was burning less calories but the good kind . From Overijse I rode to Wavre and then Ottenburg. The wind was more or less in my face again so I turned away towards Pecrot and then climbed towards Nethen. Over Hamme Mille and then back home. Good ride, nothing too strenuous with an average heartrate of 113.

Ride Stats : 58K and 425/625 heightmeters (Polar/Garmin) in 2h37mins

3585/36880
19-05-2010, 21:18 geschreven door Big Bad Wolf
18-05-2010

Vespa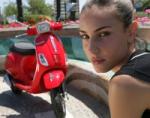 A recovery ride was what I needed and to couple two things I decided to check out 2 vespa dealers in my immediate region to see what they were displaying . I first rode towards Ford Hergon on the Brusselsesteenweg . They also happen to sell Vespa scooters and they had quite a few on display. I then followed the Ring around Leuven towards the Naamsepoort - some very hectic traffic here - and rode towards Oud-Heverlee to look at the display of Chris Dehondt, another Vespa dealer. On my way over there I spotted a beautiful red Vespa GTS250ie and took some pictures. The pace was easy and there was a strong wind blowing but it was a lot warmer than the last couple of days so I didn't really mind. Connecting to the Zoete Waters and Sint Joris Weert to ride home through the Weertse Dreef I completed a very relaxed and pleasant ride.

Ride Stats : 31.5K and 220/285 heightmeters (Polar/Garmin) in 1h30mins

3527/36255
18-05-2010, 20:01 geschreven door Big Bad Wolf
16-05-2010

Easy going ?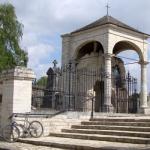 Felt tired this morning, which was to be expected after two days with a lot of heightmeters and kilometers. So I decided for an easy ride on the road. It was the first time this month I took the Hilset out. I started along the Weertse Dreef towards Sint Joris Weert. The weather was fine but there was a nasty wind blowing which would hamper me in the second part of the ride. The sun came through the clouds from time to time and out of the wind the temperature felt pleasant.
From Weert I rode towards Nethen and then over Pecrot to Archennes. From Grez I climbed to Heze and further onwards to Longueville. Here I chose to ride to Dongelberg and try to make my way towards Melin and St Remi Geest .
After crossing Dongelberg I remembered the little road that took me towards Lathuy. From there I took the direction of Melin, crossing the big road towards Jodoigne and then onwards to reach this little village. One of the most beautiful villages of Wallonie, as it is mentioned when you reach its borders. A lot of the houses here are built with the typical Gobertange sandstones, giving them an ancient but neat look. Pausing to take some pictures from the church - also in Gobertange stone - I then rode towards Saint Remi Geest. Very cobbly roads in this area but also a very beautiful little village with a typical church in Gobertange stones.
From St Remi Geest I took the cobbly road towards Zetrud-Lumay and then - just before reaching Hoegaarden - disappeared on a small tarmac road that led me past Hoegaarden towards Meldert. From here I just had to ride through Bierbeek before arriving home again. On the last part of the ride, the wind was blowing in my face which wasn't helping to keep my heartrate low. But in all I can't complain with and average heartrate of just 113bpm during this ride.

Ride Stats : 62K and 540/610 heightmeters (Polar/Garmin) in 3h3mins

3496/35970
16-05-2010, 17:47 geschreven door Big Bad Wolf
15-05-2010

Up and down the Tienne Vincent
My employer wanted me on standby today. That meant that I could make a cross over my planned Ardennes ride because I needed to be at work within the hour of being called, if needed.
So I decided to do something else, involving less distance and a shorter response time if needed. I cleaned the Moots before riding out a couple of kilometers towards the Tienne Vincent in Nethen. Here I usually go to break in my disc brakes. It is a steep slope on a wide tarmac road which offer around 35 meters of height difference. I can do the braking on the way down and couple it to a nice climbing session on the way up.
In all I rode up 10 times and so also had 10 times x 3 brake sessions. Coming to a complete standstill on every application of the brakes. I could do this 3 times on every downhill. This warms the pads up nicely and allows them to bed in. The difference between the first sessions and the last is very noticeable. About halfway through the sessions I could feel the front brake becoming stronger . Strong enough to lift the rear wheel whilst braking. After I finished with the Tienne Vincent I couldn't resist adding another climb on the parallel Bruyere de Wez. Unfortunately whilst riding down this narrow street I developed a flat tyre on the front wheel. Turned out to be a thorn which had made its way through the carcass of the Continental Mountain King. Even in this Protection Version it still is penetrable. The heavy braking must have helped because I flatted during one of the braking applications. I just went through the tyre as I braked. I didn't bother looking for the whole but changed the inner tyre and rode home.

Ride Stats : 21K an 480/500 heightmeters (Polar/Garmin) in 1h25mins

3434/35360
15-05-2010, 13:37 geschreven door Big Bad Wolf
14-05-2010

O2 Bikers Roadbook Taalgrens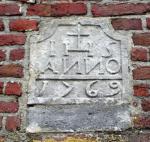 After yesterdays rainy and cold intermezzo I was weary that I would find a lot of mud on my trails. I decided to ride the newest O2 Bikers roadbook. It is called Taalgrens and this makes allusion to the fact that it flirts with the language border between Vlaams and Waals Brabant. The dutch-speaking and french speaking side of the province of Brabant.
The trail starts at the Zoete Waters in Oud Heverlee and the first 10K or so lead through the Kouterbos and the Meerdael Forest. Some pleasant trails and with the forest floor being moist some care needed to be taken on some of the downhills. The Moots is equipped with Continental Mountain King tyres so grip wasn't an issue. What was an issue is the fact that my front brake - a 180mm Hope Mini - seems to be dragging itself against the brake pads, or at least one of them. I had them replaced when the bike went in for service and it seems the brake pads need some braking in. This constant dragging makes the ride a little tougher than it should be. Its not much, but it does slow down the wheel after 3 or 4 turns when you let it run free. I must have a look at that brake and see if anything can be done to fix this.
Anyways, upon leaving Meerdael Forest the trail then loses itself into the Nethen fields before making way towards Pietrebais. More field trails here, with the landscape ondulating up and down so adding to the heightmeter count all the time. The trail then makes its way towards Lathuy before turning slowly back towards Happeau . The field roads sometimes give way to descents in semi-hollow roads where care needs to be taken not to choose the wrong trail. There are some deep ruts here and taking the wrong one will lead you into a muddy puddle. I keep my eyes open and manage to circumvene all trouble.
The trail then moves towards St Jean Geest and I recognize some trails I did in the winter. Unfortunately the trail also goes though a deep hollow road that is a real mud trap. I take no risks on the slippery downhill and walk a couple of meters when the going gets too muddy. On the other side of the hollow road I cross a tarmac road and can recuperate a bit while following a small tarmac road. After a while a nice and tricky downhill with lots of ruts follows and I really enjoy finding a trail that keeps me going forward. After the downhill follows an uphill - of course - and this is a difficult one because they paved the track with little stones and debris. More field tracks follow and it isn't until I reach the Ferme de Wahenge that I find another forest passage. Very short though and now I am on the trails I already did a couple of days ago. A lot of boring fields trails bringing me towards Beauvechain and then into the Meerdael Forest again. Here I have to follow some broad forest roads that lead me back towards Vaalbeek. A nice little uphill that hurts my legs and then a last 1.5K on a braod forest trail and I 'm back at the start. A little more than 80K and according to my GPS some 880 heightmeters.
This roadbook obviously focusses on distance, compromising on the beauty of the trails. Of course it can be made a lot more interesting but then these 80K might be a tad too difficult for most. Riding 5 hours on a mountainbike is not something that most are trained for. And if you should couple that to more heightmeters or more technical trails - they are there, I can assure you, just try the Grez Doiceau roadbook for example - most bikers would arrive more dead than alive at the end of an 80K ride.
As it stands , this is a nice ride as an in-between, to get some distance in the legs without straining them too much.

Ride Stats : 92K and 745/930 heightmeters (Polar/Garmin) in 5h25mins

3413/34860

14-05-2010, 18:32 geschreven door Big Bad Wolf
10-05-2010

O2 Bikers Roadbook Korbeek Dyle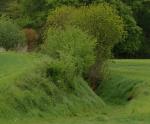 The weather was dry and it wasn't too cold. Around 12 degrees with again a northern wind blowing. I felt like doing the Korbeek Dyle O2 Bikers roadbook this evening so I set out to the start near the Natur Natur complex. The roadbook is an ode to the hollow roads this area is famous for. The first kilometers meander up and down along some fine examples of these hollow roads. The trail moves up and down the northern slope of the Yse valley and gets me through Neerijse and Loonbeek. The dry trails are no match for the Moots. It rolls happily over them, the Continental Mountain Kings finding a lot of grip even on the off-camber gullies that sometimes criss-cross the trailhead. Whenever it rains, there is a lot of erosion on these trails, which obviously explains the deep hollow roads that have been formed through the centuries. The landscape is lush and green.
Next to Huldenberg the trail moves to the north and just before Duisburg veers to the northeast towards the Tersaart farm. A nice section along the Tersaartbos takes me towards the Hegge. Here I add an extra downhill and climb the makers of the trail must have missed. Or perhaps it had rained and they opted to leave it be and took the tarmac instead. Anyways, when its dry the extra loop is not difficult unless you don't like gullies and fast downhills.
The Keistraat takes me towards the Neerijsebaan which I follow for a while before taking another small tarmac road in the direction of Leuven. But not for long. Another downhill in a hollow road takes me towards St Verone. I see the chapel sticking out behind the crest but I move to the right and down into Bertem. Here is another impressive hollow road taking me up the Zavelberg. From the top I follow a tarmac road again and then take a sharp right for another section of hollow roads, taking me down into Ormendaal. Along a singletrack and then upwards into another hollow road, back up the crest. Into Egenhoven for a nice section of forest taking me to the Rotspoel where I follow the Green Meerdael Bloso in the opposite direction for a while, taking me along a singletrack parallel to the E40. Crossing under the E40 and then following the Bloso again which takes me nicely back to the Natur Natur in Korbeek Dyle.
It was a fun ride. Not too tough , just a fine ride for a long evening, preferably ridden when its been dry for a week, because these trails can hold the mud for a long time. The trail is around 40K long and has around 500 heightmeters in it. No worries about any mud today. Everything was nice and dry. If you also want to ride this trail, check out the O2 Bikers website (www.O2Bikers.com) for the GPS files or the roadbook.

Ride Stats : 55K and 505/585 heightmeters (Polar/Garmin) in 2h51mins

3321/33930

10-05-2010, 21:07 geschreven door Big Bad Wolf
08-05-2010

Bloso combinations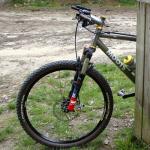 A dry but cloudy day. I decided to stay home and do a ride nearby. I chose for the Meerdael BLOSO's and wanted to combine them with the Overijse BLOSO's. But during the first part of the ride, following the Green Meerdael Bloso, I found I had not sufficiently recuperated from last thursdays' ride. So When I reached St Joris Weert and made the connection to St Agatha Rode I decided to settle for only the Red Overijse Bloso. Now this also happens to be the more intense of the three, so I had a good workout nevertheless. The trails were dry and fast. Hard and sometimes wet but never muddy. The Moots took care of all the pitfalls the track had in store. I had let some air out of my tyres and they were behaving funny on tarmac but like a charm on the offroad trails. The grip is phenomenal, even scary at times. You only need to get used to riding as if with a flat tyre. Also, hard braking on hard surfaces compresses the tyre and this is something you need to take care with. Especially on tarmac and in a corners you don't want to brake too hard.
When I was back in St Agatha Rode I rode towards St Joris Weert again where I picked up on the remainder of the Meerdael BLOSO's. I took care to eat every hour and when I reached the Mollendaal lookout I also took a picture of the bike.
I didn't see much activity on the trails but perhaps this was due to the low temperature. I only had a 11 degree average temp during the ride. Although I like it that way. The wind had changed directions and was now blowing from the west. Dress up adequately and you will have no troubles in these temperatures. I wore a long sleeved shirt and a bodywarmer over 3 layers of underwear, the last layer with long sleeves. 3/4th length trousers kept my knees warm. I managed a good average despite feeling a bit tired.

Ride Stats : 76K and 745/870 heightmeters (Polar/Garmin) in 4h6mins

3265,5/33345
08-05-2010, 16:13 geschreven door Big Bad Wolf
06-05-2010

O2 Bikers Roadbook Taalgrens - interrupted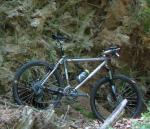 First ride for the Moots this year. The Litespeed is in for a much needed replacement of the bottom bracket bearings and an overhaul of its Fox RLT80 fork. The Moots saw his overhaul last year so this was the first ride since then. I had to look a bit for the pressure in the tyres and the front fork. I like to ride the Continental Mountain Kings pretty low in pressure but I need to get used to the feeling of riding with such flat tyres. Also the front fork needs to lose a bit of PSI.
I decided to do the latest O2 Bikers roadbook which starts at the Zoete Waters in Oud-Heverlee and makes its way through Meerdael Forest and the plains on the south of the language border - hence its name "Taalgrens" - all the way to Dongelberg. Since it was rather late when I left and I didn't want to risk getting caught in Dongelberg with a rain shower on my head I decided to ride the first part of the trail - some 30K - until I reached Pietrebais. The first bit is quite pleasant with some nice tracks in Meerdael Forest and then disappearing into the fields of Nethen and Bossut. Some climbs here, some cobbles as well , and then the track moves towards Pietrebais.
Here I decided to leave the trail and make my way towards La Bruyere where I could pick it back up on its return towards Meerdael Forest. I picked in just before the ferme de Wahenge. This is a bit special because it has some weird works of art in a nearby field. Even the satellite pictures on Google Earth have them on display.
From here the track meanders through the fields south of L'Ecluse and I had some trouble with a stiff northwesterly wind . The trail is rather boring here with nothing but dry field roads. I was glad when I neared Beauvechain and then entered Meerdael Forest again for some last trails in this beautiful forest. O2 Bikers have a problem though because they incorporated a trail into their roadbook that is forbidden for bikers. At least, when you enter the trail there is a marker with walkers on it so you could assume that bikers are not forbidden. However when you leave the trail on the other side there is a sign with a biker and a horse with a big red trait through it. That is very clear ; NO bikers and NO horses on this trail. In all honesty I do ride through this trail myself from time to time but I could imagine hte forestry not being pleased when a lot of bikers ride through. Still, that is not my problem but O2 Bikers'.
When I arrived back at the Zoete Waters I saw some very menacing clouds so I quickly rode back home. Not a drop fell but I did see some rain veils on the horizon so not areas have kept it dry today.

Ride Stats : 68K and 555/635 heightmeters (Polar/Garmin) in 3h41mins

3189/32475
06-05-2010, 20:54 geschreven door Big Bad Wolf
01-05-2010

Houffa Day 2 : Marathon 60K
The weather forecast was uncertain for today, some rain was expected but no-one was sure how much and when. So when I met up with my friend Guna we decided to go for a 4-5 hour offroad ride. I had found a GPS track of the 2006 Houffalize marathon, distance of 60K and around 1400 heightmeters. This looked like a good challenge so we decided to go for that. It was for both of us the first Ardennes ride of the year so it would take some getting used to the longer, steeper climbs and descents. As for the technical sections, I didn't expect them to be that numerous, but we'd have to wait and see. The trail makes a big counterclockwise loop around Houffalize .
From the start we had to get out of Houffalize which meant a steep climb on tarmac. The sun was shining and I was thinking that maybe I was wearing too much clothing. But then we turned offroad and things became serious. It is impossible to describe 60K of Ardennes in this writing so I will concentrate on a couple of highlights. Sometimes it wasn't easy to understand which track I had to follow. At one point about 7K into the ride I took a wrong turn which had us ending up on the wrong side of the river Ourthe. It took me a while to understand because we were in a deep valley and GPS reception was bad. Also, there was a road on both sides of the river and the GPS still placed me on the good road. But then the road stopped and we could barely distinguish a small path going upwards. No, this could not be the track for sure.
So I turned back and rode back to the fork. This time we crossed the river and moved on the other side. A little bit further I spotted a small roedeer. I brought this to Guna's attention and we stopped, keeping very quiet. The roedeer just looked at us, but did not run. I took out my camera and made a picture. It's amazing this animal was not scared of us. Just curiously looking in our direction, sniffing the air and turning its ears as if to judge if we were friend or foe. We were still in a deep valley not far from the river Ourthe - which , at this point, is only a couple of meters wide. Next we climbed out of the valley and ended up on one of the Houffalize arrowed trails (I believe the blue number 5)

Another highlight was a passage in the Bois de Cedrogne. We had to pass a gate and came into what seemed to be a parc naturel. Indeed, when I checked the map later, it was the Parc Naturel des 2 Ourthes. I saw some very old pine trees, thick and high, almost majestically so. There were lots of little rivers and at one point it looked as if we were in the Hautes Fagnes. We dropped onto a GR route which we followed for numerous kilometers, ondulating and twisting through this large forest. Near Dinez we came back into civilization. A great section, this one.
But a little bit further, still on the GR, was another beautiful passage along what seemed a very old riverbed, twisting down towards Mont.
Near Achouffe we dropped down to the river Ourthe again. I missed another turn and we had to connect back to the trail by following a very technical singletrail next to the river. We arrived back on the trail, which again coincided with a marked route (number 2) and now had to climb for ages before being sent down towards the road that connects Houffalize to La Roche. We had felt a couple of raindrops and the cloud cover was menacing. But so far no real rain had fallen. The climb towards Bonnerue was really starting to drain our forces by now and we still had a while to go. Stopping regularly for a snack - and to rest a bit - the combination of climbing and descents was taking its toll. At one point a series of trees had fallen over the trail. They must have been there for a couple of months now and it really is a disgrace that they haven't been cleaned up by the local authorities. It took a lot of effort to climb over and through the debris before being able to ride again.

We were now on the south of Houffalize and after crossing the E25 began to feel we were nearly at home. But no, there was one very long climb waiting, which took us up 130 heightmeters in a little more than 3 kilometers. From there it was all downhill, first along a wonderful singletrack, later on a bigger trail down towards Houffalize were we stumbled on the Rue de La Roche were we had to negotiate the crowd that was following one of the supporting races of the World Cup. You can download the GPS track from the following link but please bear in mind that there is an extra section around km 7 and also a very difficult technical section in Achouffe around km 43. Other than that the track is correct .
We were very lucky with the weather and the track conditions. It hadn't rained for 2 weeks and the tracks were as dry as I have ever seen them. Of course this is the Ardennes so keep in mind that at one point or another you will have to cross a river or follow a riverbed. Technical difficulty isn't too high, except for the bit I described near Achouffe but of course the physical difficulty is high with more than 1400 heightmeters on a 60K loop.

Ride Stats : 67K and 1385/1420 heightmeters (Polar/Garmin) in 4h52mins

3121/31840




01-05-2010, 00:00 geschreven door Big Bad Wolf
30-04-2010

Houffa Day 1 : to Bastogne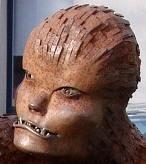 I arrived in Houffalize around 4.30pm and by luck I could already go into my hotel room. So that left me with ample time for a ride before dinner. The weather was fine, a tad over 14 degrees and a bit of wind vlowing from the East. I noticed on the Ol'Fosse d'Outh website that they had a new Ravel route opened, connecting Houffalize to Bourcy and then Bourcy to Bastogne. That looked like a good ride to ease into this weekend so I left around 5 pm . The first 10K is a steady climb from Houffalize to Bourcy. The first bit, starting near the hotel, is very steep but then the slope drops to around 3 degrees. After all, this is an old train track and the trains cannot handle any steeper slopes. From Bourcy the ravel veers towards Bastogne and stays more or less on the plateau.


When I arrived in Bastogne I could follow the Ravel all the way to the Bastogne Sud station. There I turned and when I saw markers leading towards the Mardasson War Memorial I decided to ride over and take a couple of pictures. Riding back towards Houffalize the wind was blowing in my side and the last 10K were an easy drop back home.

Ride Stats : 47K and 280/235 heightmeters (Polar/Garmin) in 2h2mins

3054/30420

30-04-2010, 00:00 geschreven door Big Bad Wolf
27-04-2010

Relaxing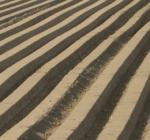 Another relaxing ride this late afternoon. I started out over the Ludo Dierckxsens in Bierbeek and following that until I reached the outskirts of Longueville. There I chose to cut it short and head for Heze and Grez Doiceau. I rode over Bercuit and then down into Dion and after that made my way towards Archennes and Bossut. Here I rode towards Hamme Mille and then back into Meerdael.
The weather was very pleasant with temperatures around 20 degrees C. The forecast for this weekend doesn't look so bright though. I'm due in Houffalize for - hopefully - some biking and then follow the MTB XC World Cup. I would have liked to have received my 20th Anniversary Houffalize T-shirt by now but that would be asking too much of O2 Bikers I guess .

Ride Stats : 53K and 405/455 heightmeters (Polar/Garmin) in 2h32mins

3007/30185
27-04-2010, 20:34 geschreven door Big Bad Wolf
26-04-2010

Gastuche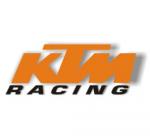 Today I just did an easy recovery ride. The weather was still dry and relatively warm with 16 degrees C. I took the opportunity to ride to a bike shop - "Ride and Race" motorbikes - in Grez Doiceau to check out the offer they had. There was KTM and also Husaberg. I'm in two minds about getting a bike to ride to work. Since I have no use for a road bike and don't want a new enduro bike I was looking at the Supermotard offerings of both makes. I know the quality of KTM , having owned one some 30 years ago but I also know they are very expensive. Perhaps too expensive for a bike that will only be used for commuting to and from work and some local rides at the most. Like I said, I'm in two minds about this.
The ride went fine, legs felt OK - not too tired - and I even included a little bit of climbing up to the Golf at Bercuit and then back home over Grez and Hamme Mille. A relaxing ride giving my legs some air .

Ride Stats : 35K and 335/375 heightmeters (Polar/Garmin) in 1h43mins

2954/29730
26-04-2010, 18:29 geschreven door Big Bad Wolf
24-04-2010

Julie 4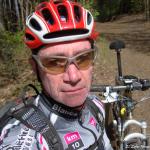 A little more than a year ago O2 Bikers published a GPS roadbook starting in Grez Doiceau. I saw the potential of that 35K loop and quickly added a couple of other tracks to make it a bit spicier and incorporate a couple of tracks the guides that produced the O2 Bikers loop wouldn't or couldn't add to their loop.
Since I was at that time offering to guide a ride to a couple of friends, one was called Julie, I named my track the O2 Grez Julie track. Since then many moons have passed, Julie has yet to ride this track but it has seen a couple of changes, making it a bit tougher every time. Today I rode to Grez to ride the Julie 3 and add another climb near Gottechain to add a couple of heightmeters and thus producing Julie 4.
Nature was in full bloom, the weather was warm with a 21 degree C average temperature and a wind blowing from the southeast. I still felt my legs from thursdays's ride so I took it easy. As far as "taking it easy" is possible on a trail that is around 58K long and counts nearly a 1000 heightmeters. You can check the trail on the Garmin Connect website and I also offer it as a download. If you ride it I would very much appreciate your comments.
When I left Heze I saw another trail that I could possibly add, so Julie 5 is already germinating in my mind. The last couple of kilometers were very tough, passing through Pietrebais a couple of times, with some very fine singletrails and hairy descents.
The trails were as dry as a bone. The only bit of mud I saw was in Bonlez, where a small singletrail takes you next to the river Train. There are some wells always leaving the trail wet. I stepped off my bike and walked. The river is very close by here and when you should slide away and fall into it - even with the warm temperatures of today - it would not be very healthy. Another wet spot was on a small singletrack near the river Pietrebais, where you have too cross a little rivulet a couple of times. When I arrived back in Grez Doiceau I felt tired but very satisfied with yet another great ride. I saw some markers for an organised ride. I'm guessing its the one starting at the College Technique St Jean in Wavre tomorrow. They took some of the trails I was riding so I would heartily recommend anyone to start there tomorrow. With the current weather and trail conditions it is great to be out there.

Ride Stats : 79K and 1065/1160 heightmeters (Polar/Garmin) in 4h39mins

2919/29355
24-04-2010, 17:27 geschreven door Big Bad Wolf
22-04-2010

No deviation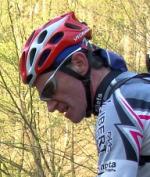 Nice sunny and calm weather. A little bit of wind still blowing from the northeast. But nothing to stop me from riding out. I decided to do the Overijse BLOSO routes once more. It had been a while since I rode them completely and integrally. Usually I deviate to add a climb here and there but today I stuck to the route. The arrowing was excellent as far as I could see. As of usual I picked in on the Red route near Sint Agatha Rode. The trails were perfect. P e r f e c t. There was hardly a puddle in sight. Except for a few places were little rivulets cross the trails, like when just before you arrive in Overijse after the descent from the Bisdom. I believe it is called the Hassenbergstraat, or at least that is the name of the street where you end up in after 500m of forest trails. I paused at the park in the centre of Overijse to take a picture of several birds on the pond.
When leaving Overijse along the Reutenbeek there were heavy road workings going on, forcing me to walk a couple of meters. I could make good speed due to the dry conditions and a couple of legs that felt good. On the climbs I felt strong and I turned my ride into a bit of interval training. Taking it easy on the level roads and putting a bit of pressure on the legs on the climbs. Those who know these trails know that they incorporate quite a few climbs. Also the descents are a challenge from time to time. The entrance of the steep descent at the end of the Langeheidestraat on the Red trail was blocked by fallen trees. But after a bit of climbing I could get back on my bike and take the steppy descent . Following is a steep climb that comes out on the Loswegstraat. Then there is a bit of level trail along the Tommestraat before dropping down into the long descent into the Laurensart forest that ends on the Klabbeekstraat. The heightmeters were accumulating nicely and before long I had completed the 34K lap. I drove back to Sint Joris Weert and did a little extra loop towards The Kluis area.
From there it didn't take me long to arrive home. This was a very good ride. I had a good feeling in my legs. The bike performed flawlessly and in a couple of weeks it will need to go in for maintenance. The Race Face bottom bracket has seen its best day and the bearings need to be changed. Not easy since this kind of bottom bracket is old school. But I'm sure Filip of Filip Sport will find the necessary spares. The bike will take a well-deserved summer vacation and the Moots and Merlin will come out to play with instead.

Ride Stats : 55K and 685/750 heightmeters (Polar/Garmin) in 2h54mins

2840/28195
22-04-2010, 20:25 geschreven door Big Bad Wolf
20-04-2010

KBC Photoshoot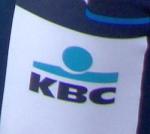 Today there was a photoshoot planned with the KBC MTB club so we were hoping for a big turnout. And indeed there were about 20 bikers present at the start in Heverlee. All clad in KBC apparel spanning a couple of years. From dark to light blue on white with some black tossed in between . We had a appointment with the KBC photog at the Zoete Waters. It took a while to locate the man but then we were set for a couple of shootings. Some riding, some posing with the big group.
I had taken my precautions and had already 1 hours ride in Meerdael and Heverleebos before I arrived in Heverlee. So when we left around 7.30pm I reckoned we would have around 1 hour before the sun would be too low to see where we were going in the Meerdael Forest. We took off again and soon I was asked to guide the group around some of the better singletrails. No problem, and the coming 45 minutes I would guide them through some of the finer trails of the south of Meerdael forest. I left out the real crackers because I didn't want any accidents or people who were left behind. But I think most of them had a nice ride . The trails were great, dry and fast. You could literally ride any trail you wanted, without having to fear for mud. Some of the climbs were pretty steep and there were also some great downhills for the group to enjoy.
Before long we crossed the Naamsesteenweg because the group would ride to Haasrode for a drink. I decided to leave them and return home, just in time before darkness started to set in.

Ride Stats : 43K and 470/540 heightmeters (Polar/Garminà in 2h26mins

2785/27445
20-04-2010, 21:16 geschreven door Big Bad Wolf
19-04-2010

Relax
Easy and uneventful ride. Giving my legs the opportunity to recover. I prefer active recovery to sitting in a chair and hoping the pain will go away. Weather was still OK but minus 5 degrees as compared to yesterdays' 20 degrees C.

Ride Stats : 23K and 140/190 heightmeters (Polar/Garmin) in 1h6mins

2743/26905
19-04-2010, 18:53 geschreven door Big Bad Wolf
18-04-2010

Mollendaal relaxing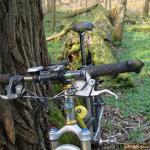 I never thought I would say this but I believe we need some rain. This afternoon I watched Philippe Gilbert win the Amstel Gold race and then rode out for a relaxing ride. I started out in Mollendaalbos and then ventured into the fields towards Bierbeek and Valduc. It struck me that the tracks were very dry, to the point of being sandy. In some corners the wheels would just wash away in the dust. During the ride I tried to relax my muscles as much as possible. Yesterdays ride left me tired but still I managed a good pace throughout todays' ride as well. I took a climb up to the St Gerardus chapel in Bierbeek before riding on towards the fields of Valduc .
Back into Meerdael forest after that for a last couple of kilometers with some little loops taking in some smaller trails in between the bigger forest avenues.
Before I arrived home I looked back on along one of the trails and saw the plentitude of little white aster-like flowers and couldn't resist taking a picture.

Ride Stats : 22,5K and 235/250 heightmeters (Polar/Garmin) in 1h20mins

2719/26715
18-04-2010, 20:05 geschreven door Big Bad Wolf
17-04-2010

Hallerbos extravaganza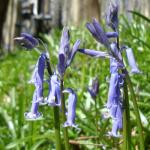 Every now and then I do something crazy. One of those things is riding long distances offroad on a mountainbike. Today was the perfect day for an extravagant ride. The plan was simple. Connect the Meerdael Forest to the Sonian Forest, move on towards the Hallerbos and there I would do a 35K/670hm ride I have on GPS. I've done this ride last year on the first of June. Today it was a bit earlier in the year but the weather looked promising and I was eager to find out whether the blue hyacynths would be in bloom. There was someone who would accompany me from the Sonian Forest onwards but at the last moment she cancelled her attendance. So it was a solo ride. And a long one.
I started out over a new track I discovered only last week. First riding to Sint Joris Weert through the Meerdael Forest, then climb up the ridge of the Smeysberg but stay close to Neerijse. From there I could ride towards the Ganspoel and past the Duisburg water towers. I then disappeared into the Sonian Forest to connect in a straight line to Jezus-Eik. From there it's still about a 10K ride to St Genesius Rode and the to Dworp and the 7 Fontaines. After 35K and 1h46 or thereabouts I was at the start of my loop.
The loop first goes around the lakes at the 7 Fontaines and then follows the GR track along the edge of a field. A steep climb up towards the edge of the forest and then back down again to ride up to the forest again. This time I would spend a long time into Hallerbos. I noticed immediately that the bluebells weren't out in full force. I am not sure whether they already bloomed or if I just was a week too early. At any rate there don't seem to be as many of them as in previous years. The white flowers where already in full bloom.
After a couple of trails in the forest I set towards crossing the highway and make my way towards Braine l'Alleud. There were a lot of small singletrails here, sometimes I had to look for them but whomever built the track was surely at home in this area. The track ondulates up and down, sometimes very steep but always fun and surprising. My legs began to feel the kilometers and I paused for a bit to eat. Before long I was at the Leembeek bos where the trailbuilder had incorporated a nice section into the lembeek area.
Crossing the E25 again and I was back in Hallerbos. There were a lot of people around, some walking, some on horseback and others on bikes. Obviously they all were looking for the bluebells. Again they were there, but not as plenty as one would expect. Crossing the last ridge and I am back at the 7 Fontaines. Phew, 73K on the counter, only 35 left to go. Another bit to eat whilst I make some pictures of ducks and tortoises (!) basking in the sun on a tree that has fallen into the water.
The ride back only varies a couple of times from the trails I took getting here. My neck starts to make me feel I'm not 25 anymore but I am more concerned with my GPS. I noticed the battery was nearly dead. Luckily I would make it home but it was a close call. I should have fully loaded it before I left, never trust it to be full. When I drop down the Smeysberg I have to wait for a local road race to pass. After the green flag car I can continue my way towards home. The ride was long and took a lot out of me. But the sun was out the whole day and even though I felt the northeasterly wind from time to time on my way back home, most of the ride I was in forests so it didn't bother me that much. As far as the bluebells are concerned. I could be wrong but I hope they still need a couple of warm days to reach full bloom. I spoke to a guide in the forest and he told me the next week would be prime time for the bluebells. Although he also had to concede the harsh winter took its toll. Like he said it : 'we can't command nature'. So true.




Ride Stats : 110K and 1350/1440 heightmeters (Polar/Garmin) in 6h2mins

2697/26465


17-04-2010, 18:46 geschreven door Big Bad Wolf
15-04-2010

KBC MTB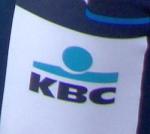 It was the first time the weather was perfect on a thursday evening so I decided to join the KBC mountainbike club on their weekly outing. They start at the Heverlee Caserne at 6.30pm and then go for a 2-hour drive in Heverleebos and Meerdael Forest. We started easy in Heverleebos but one of the guides quickly had a problem with his bike. Turned out the axle of the wheel was touching the disc of the rear brake. Probably an error in the bike shop since the bike just came back from an overhaul. One guide gone so that left me to guide the rest of the group through the Forest.
No problem of course , I only had to take into account the fitness level of the weakest of the group and make sure that we would be back around 8.15 or thereabouts. The group was pretty strong and I incorporated a couple of technical tracks to ease them towards more confidence in up-and downhills. There were obviously also a couple of "testosteron toms" who would escape on each of the climbs, incorporating a bit of interval training. Of course they had to wait at the next turn for the rest of the group and the guide. I developed an easy pace and tried to keep the group together. The trails were perfect, dry and mostly clear of debris. Near the end, after a couple of steep climbs in the Nethen area, the fatigue was starting to set in and I turned the group back towards Blanden and towards Heverleebos where we split up. Me heading for home, the rest heading for the starting place where they left their cars. Dusk was setting in and the warm sun was long gone so I was glad to not have inderdressed. In the forest the wind wasn't noticeable but once you came out into the open the chilly northeaster grabbed you in the face like a cold hand. Good thing I wore a windbreaker and long sleeved shirt and 3/4th lenght Assos Roubaix pants.

Ride Stats : 34.5K and 305/350 heightmeters (Polar/Garmin) in 1h55mins

2587/25025
15-04-2010, 21:10 geschreven door Big Bad Wolf
Gastenboek./.Guestbook
Druk op onderstaande knop om een berichtje achter te laten in mijn Gastenboek. / Press the button below to write in my Guestbook.
Email Me
Press the button to send me a mail