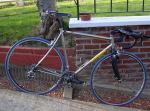 The Litespeed Vortex was built and delivered this weekend and when I had an hour to spare today I couldn't resist checking it out. I did not have any spare inner tyres yet so I decided on a loop through Blanden, up and down towards Haasrode and then making a figure eight through Bierbeekstraat, Milsestraat, Kartuizerstraat and Blandenstraat. That way if I did flatten, I would only be within walking distance from home.
It had been a while since I rode a road-bike and I was amazed at the agility and nervousness of this kind of bike. The speed was amazing and the bike felt light and agile. The Brooks saddle was still hard and will need a lot of kilometers to settle in, I'm aware of that. I relaxed on the uphills, letting the bike do the work and trying to get the hang of the shifting. The Campagnolo Chorus group shifts well but I need to focus on which side of the shifter I need to use to shift up and down, in front and in the rear. On the downhills I was a bit scared to let the bike go at full speed, not being used to this nervousness and the way it seemed to pick up the speed very quickly so I took it relatively easy, grabbing the handlebar in the curve with the brakes within easy reach.
I wore Campagnolo overshoes in sky blue color which miraculously matched the color of the Vredestein Fortezza tyres that ran across the Campagnolo Neutron wheels I bought off Gregory Joseph, a young "Topsport Vlaanderen" pro . The brakes also took some getting used to, but they seem strong and grippy.
The position on the bike seems to be spot on, I don't think I will have to change anything. Obviously the ride was short, maybe longer rides will demand some positional changes but it doesn't look that way. The bike weighs in just a tad over 8 kg and it feels that way as well.
The only thing that needs to be done now is attach the Litespeed head badge, but Filip Sport is waiting for special glue to do that. I leave you with a family shot taken saturday from the 2 Litespeeds I now own. The Obed mountainbike, date of birth 1999, and the 'new' Vortex which was made in 2001.

Ride Stats : 24.5K and 190/225 heightmeters (Polar/Garmin) in 1h1min

871/9640
28-03-2011, 18:51 geschreven door Big Bad Wolf