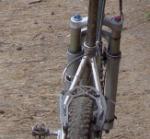 As some of you might remember, I came down with Lyme's disease at the beginning of September this year. It took me 21 days of antibiotics to recover. Needless to say, the month of september, traditionally the month where I do a lot of rides in the Ardennes, was a month I wanted to forget as soon as possible. I beat Lyme, was diagnosed as being cured, but I had 'lost' a months' worth of kilometers and heightmeters. Each year I set goals for myself pertaining to my bike. I aim for 10.000km and a 100.000 heightmeters. Especially the heightmeters are very important to me. Losing september meant losing 10.000 heightmeters.
So now you know why I am doing all those rides with lots of heightmeters these last couple of weeks !
I have to get to the 100.000m mark before the end of this month. Now december hasn't been very easy on the bikers up to date. Lots of snow, ice and cold weather. Not the kind of weather that is very inviting to do long hard rides. And yet, I am trying to do just that. Fortunately I am pretty headstrong in that department. So I choose my rides very carefully, aiming now to maximize on the amount of meters I climb during each ride. Today was no exception. I greeted the warmer weather with the plan to do a 1000hm+ ride in Meerdael Forest.
Like last tuesday, I chose the same 2 climbs to battle with the terrain, struggling uphill and gliding down the other side of the hill to do it again.
I did go slightly different about it today. Instead of riding all 3 hills in succession , I chose to ride 10 climbs on the first hill, then move on to the second hill, do that 10 times and finish off with 10 ascents of the third hill. Mentally this was better because the first hill is a very steep one, and I was glad to get that over and done with as soon as possible. Its the climb on the Blue Bloso starting down at the Kluis and going up to the Walendreef. It gets me 35 heightmeters in one go.
After 10 ascents the track - which was wet to start with - became slushy and it was difficult to keep the wheels moving without sliding. But I made it and moved on to the second climb. This one is on the Blue Bloso again, but in the opposite direction, climbing up from the fence down in Nethen to the Walendreef. A long steady climb with a lot of ruts and roots, and getting really steep at the end. But a good climb to ride, my heartrate is lower here, except for the last part, where it goes up. This is due to 2 things. Its steep and its slippery so I have to take care where I put my wheels. A very good exercise in bike control. Where to shift is of the utmost importance. After 10 climbs I was done with this hill as well. My heightmeter counter was now just over 750 meters with one climb to go. This second climb is 39 heightmeters.
From the Hercules Salon, I go straight down towards Nethen, very technical descent with a tree at the end. But all ride-able . Then to the left and back up towards the Hercules Salon. Another 36 heightmeters . This climb starts steep and with a lot of branches that have to be avoided or crossed, then mellows out a bit and it ends with another steeper section, but without much obstacles. Then back down again for a new ascent. After 10 climbs I was over 1100 heightmeters.
I rode down towards the Kluis on the Hercules Dreef and decided to ride the complete loop of 3 climbs in succession as a sort of ultimate mental test . I now had 1220 heightmeters and 37km. A hill factor nearing the 33 mark. Not bad for a saturday in December.

I was feeling tired but also glad that I completed this difficult task. Another big step towards my yearly goal. Here is the Polar file from todays' ride. You can spot the 3 sets of 10 climbs and then another 3 climbs where I complete the loop in one go. The heartrate is the red line, my speed is in blue.

Riding home at an easy pace along the Weertse Dreef I could relax my muscles a bit , already starting the recovery process.

Ride Stats : 44.5K and 1275/1320 heightmeters (Polar/Garmin) in 3h52mins

8798/96155


11-12-2010, 17:33 geschreven door Big Bad Wolf