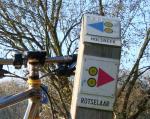 Had a day off from work today and I was looking to do a long offroad ride to enjoy the dry november weather. The night saw the first freezing temperatures and when I rode out around 11AM the temperature was still a fresh 3 degrees C.
The plan was to connect over the road to the place where the Holsbeek BLOSO routes come closest to the church of Linden. So I rode 15K through Korbeek Lo and Linden and met up with the route near the place they call the "bed of Napoleon". Legend has it Napoleon Bonaparte slept here during one of his outings in our country.
Starting the track on my Garmin Edge 705 and I was off on the Blue track of the Pynnock routes , as they are also called. Nice descent to start with and the route meanders to Kortrijk-Dutsel. Some field roads, some backtracks and the occasional singletrack. Going gently up and down I am now on the Red route and in the neighborhood of Sint-Pieters-Rode. A lot of field roads here and also some tarmac. I see a nice hill to the east but the route does not seem to be concerned with climbing and it turns back to the north.
Missing the Horst castle which is very close - one wonders why they did not pass here, it is a beautiful castle - and now the track arrives in the neighborhood of Nieuwrode. Here, it makes a lot of loops to connect some nice tracks, some uphill, some downhill. This is a very nice and intense section which ends when the track comes on the Sint-Jobs route and turns towards the west.
The sun is at its highest point now and I enjoy its rays whilst I ride to the south of a forest. There are a lot of appletrees here . The route now comes in the neighborhood of Holsbeek and I have long forgotten which color of arrow I am following now. The track I have on my GPS incorporates all the routes and I have seen Red and Blue arrows , then Red again and now I arrive at a section where the Red Rotselaar Bloso route shares the same road as the Blue Holsbeek one. A little further the tracks split up.
I follow my track and I can report that there are no arrows missing. They all seem well-placed and properly maintained. I leave Holsbeek and I am now on the Green track. Things get serious when I arrive in a big forest. The track meanders up and down and keeps on doing so for more than 10K. This is for sure one of the highlights of the Holsbeek BLOSO routes. The steep hills and tricky downhills keep you busy. Meanwhile I am nearing my starting point. The complete track is nearly 56K long and has close to 700 heightmeters. Not to be scoffed at for sure.
I feel my legs are well spent and I am more than satisfied with my ride on these tracks. There are some sections which incorporate long stretches of tarmac and field roads, but they are used to connect to more interesting tracks and hilly sections. Use the tarmac to recuperate, it is well-needed.
Riding back to Linden and following the GR track over the ridge towards Korbeek Lo. Another 10K to go and I am back in Blanden, with a solid ride under my belt.

Endomondo track


Ride Stats : 86K and 965/1075 heightmeters (Polar/Garmin) in 4h41mins

11887/103315
15-11-2011, 00:00 geschreven door Big Bad Wolf