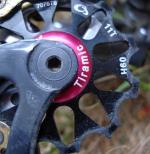 I had to choose my moment well today. The weather was alternating between short showers and sunny breaks. I started around 10.30 in a little bit of rain. But it looked like it would clear up soon , and checking on Meteox.be confirmed that. I started along the 50K road Bloso , but decided to ride it in the opposite direction. Had to return home after 1K because my Polar refused to display my heartrate. After having changed the breastband I was on my way again, heart and all.
The autumn colors were splendid in the strong sun. The crisp skies, credit goes to the rain and wind clearing away all dust, made the colors jump out. First stop was at the Arenberg campus in Heverlee, where I tried to snap the castle. I saw markers of an Orientation run next to the castle. Could this be one of the markers for next weekends' Belgian MTBO Championship?
Riding along towards Egenhoven and Neerijse I passed on the crest overlooking Sterrebeek in one direction, and looking towards Meerdael Forest in the opposite direction. Pausing for another picture. The skies were still mostly blue and any darkness was far away. I noticed the offroad tracks left and right of the small tarmac roads I was on, were very wet and muddy.
The tarmac wasn't any better though, lots of mud from the farmers harvesting their fields. Luckily I had mounted my fenders, that kept the worst off of myself. But the bike was slowly turning brown instead of titanium grey.
Riding up the Smeysberg plateau I could see the Margijsbos looming up before me. The colors were very striking and again I couldn't resist to stop and take a picture.
Down towards the Yse valley and then just before entering Hoegaarden waited the infamous Smeysberg itself. 17% slope and I had to dig deep both mentally and physically but I made it. Down along the Stroobantstraat towards Sint-Agatha Rode and then right on the Wolfshaegen to reach Terlanen. Another climb up the Bollestraat and then down on the very dangerous cobbles on the 20% slope of the Moskesberg. Some mountainbikers were sweating their way up in the opposite direction. The Overijse Bloso's passes here. Down in Terlanen again and taking some pictures of the river Lane before riding on towards Ottenburg.
From Ottenburg the track goes down again into the valley of the Dijle. I could see some dark clouds gathering in the direction the wind came from so I was mentally chacking how far I still had to go. I guessed I would probably just make it before any rain would fall. Moving from Pecrot to Nethen and onwards towards Sint Joris Weert. When I reached the Zoete Waters and turned towards Vaalbeek for the last couple of K's I could feel some drops falling. The sun was still there but darkness was gathering behind me. Into Blanden and I made it home without any more rain. Good solid long distance ride of almost 3 hours and it is with a good feeling I end this week.
The Merlin is back under the covers for its winter sleep and I guess most of riding will be done with the Big Bad Wolf and the Litespeed in the next couple of months.

Ride Stats : 57.5K and 580/615 heightmeters (Polar/Garmin) in 2h43mins

7767/82725

24-10-2010, 17:53 geschreven door Big Bad Wolf