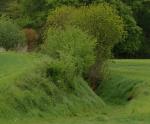 The weather was dry and it wasn't too cold. Around 12 degrees with again a northern wind blowing. I felt like doing the Korbeek Dyle O2 Bikers roadbook this evening so I set out to the start near the Natur Natur complex. The roadbook is an ode to the hollow roads this area is famous for. The first kilometers meander up and down along some fine examples of these hollow roads. The trail moves up and down the northern slope of the Yse valley and gets me through Neerijse and Loonbeek. The dry trails are no match for the Moots. It rolls happily over them, the Continental Mountain Kings finding a lot of grip even on the off-camber gullies that sometimes criss-cross the trailhead. Whenever it rains, there is a lot of erosion on these trails, which obviously explains the deep hollow roads that have been formed through the centuries. The landscape is lush and green.
Next to Huldenberg the trail moves to the north and just before Duisburg veers to the northeast towards the Tersaart farm. A nice section along the Tersaartbos takes me towards the Hegge. Here I add an extra downhill and climb the makers of the trail must have missed. Or perhaps it had rained and they opted to leave it be and took the tarmac instead. Anyways, when its dry the extra loop is not difficult unless you don't like gullies and fast downhills.
The Keistraat takes me towards the Neerijsebaan which I follow for a while before taking another small tarmac road in the direction of Leuven. But not for long. Another downhill in a hollow road takes me towards St Verone. I see the chapel sticking out behind the crest but I move to the right and down into Bertem. Here is another impressive hollow road taking me up the Zavelberg. From the top I follow a tarmac road again and then take a sharp right for another section of hollow roads, taking me down into Ormendaal. Along a singletrack and then upwards into another hollow road, back up the crest. Into Egenhoven for a nice section of forest taking me to the Rotspoel where I follow the Green Meerdael Bloso in the opposite direction for a while, taking me along a singletrack parallel to the E40. Crossing under the E40 and then following the Bloso again which takes me nicely back to the Natur Natur in Korbeek Dyle.
It was a fun ride. Not too tough , just a fine ride for a long evening, preferably ridden when its been dry for a week, because these trails can hold the mud for a long time. The trail is around 40K long and has around 500 heightmeters in it. No worries about any mud today. Everything was nice and dry. If you also want to ride this trail, check out the O2 Bikers website (www.O2Bikers.com) for the GPS files or the roadbook.

Ride Stats : 55K and 505/585 heightmeters (Polar/Garmin) in 2h51mins

3321/33930

10-05-2010, 21:07 geschreven door Big Bad Wolf