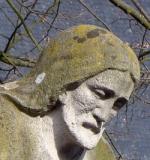 This morning the skies looked promising and the forecast was calling for a dry day with chance of brighter skies in the afternoon. I had recovered sufficiently yesterday to try another long ride today. My wheels first carried me to Heverlee and the Arenberg castle where I paused at the Banmolen to take a couple of pictures. There were a lot of people taking a walk, jogging and biking in this area, which belongs to the Leuven University grounds. The mill is very old - 17th century and it sure could use a cleanup and an overhaul. I also noticed a lot of debris floating in the water of the river Dyle. This is our heritage , lets try to keep it in a good shape so that people in a 100 years from now can still see how life was a couple of centuries ago.
I then rode towards Egenhoven and followed some small tarmac roads until I arrived near Leefdaal. I dropped down into this small village and stopped to admire the church and a statue that was erected to commemorate the martyrs of the first and second World War. Again I took some pictures, taking advantage of the shy sun piercing through the clouds and illuminating the hard concrete of the statue.
From Leefdaal I then rode towards Duisburg, taking the backroads, and I noticed there were lots of mountainbikers riding on these small concrete roads. I can't blame them, the offroads are soggy and wet and it is immensely better to save your energy riding on tarmac roads instead. I stll have a long way to go, the hard winter has kept me off my bike more than I wanted. I did ride out of course but it was mostly for shorter offroad rides, and not the longer road rides that build up a solid base to attack the new season. Still, my form is not bad, I just need to ride more of these 2-3 hour road rides.
From Duisburg I made my way towards Overijse and Hoeilaart. Turning around a bit - and everyone who knows Hoeilaart means that this means riding up and down some steep but short hills - I arrived near the town center when I spotted these 2 beautiful Classic cars. I spoke to the owner for a while and he told me he had been to the "Legends Boucles de Spa" Rallye yesterday. He had a good time and at least this way I could also spot a couple of these legendary classic Escorts.
From Hoeilaart I made my way towards Maleizen, but not before adding a couple more climbs whilst leaving Hoeilaart behind me. From then on the ride got easier. The wind was blowing more or less in my favour now and I could put the chain on the big ring. Trying to keep it there I focussed a bit on power training whilst making my way towards Maleizen . In Overijse I spotted one of my favorite cars, and in my favourite color as well. Pity they are so expensive, but this one seemed to be on sale. It had US licence plates and could do with a good clean-up.
From Maleizen I then rode over the plains of Terlanen. In Terlanen I chose to do another big climb and turned towards Ottenburg. But not before I made a picture of the water mill spanning the river Lane.
I began to feel the kilometers - and the heightmeters - by now and settled for the easy road from Ottenburg towards Sint Agatha Rode and down into Sint Joris Weert. Just another 8K now to ride to the Zoete Waters and then over Vaalbeek back home. I had a good long distance ride, easy on the heart with an average of 121 beats per minute. The weather was clement , only the wind bothered me during the first half of the ride but the temperature was between 4 degrees when I started and 7 degrees C when I arrived home near 2.30pm.

Ride Stats : 73.5K and 650/705 heightmeters (Polar/Garmin) in 3h33mins

1098/11725

21-02-2010, 17:57 geschreven door Big Bad Wolf