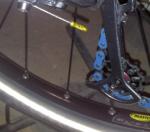 Decided to ride to the Hallerbos. Since I only had the Hilset BBW that was more or less in working order and capable of such a distance, I fitted it with some new Hutchinson Python NG Air Light tyres. These have a reputation of being very well suited for dry terrain and offer excellent rolling capacities. I put in 2.5 bar and got on my way around half past 9.
Since the Hilset has not suspension and the tyres were pretty hard I expected a harsh ride. So I decided to take as many concrete roads as possible, only occasionally passing through offroad sections. Of course , when I arrived in the Sonian Forest I had no choice but to ride along the broad forest trails. These rolled very well and I was amazed I made 23K during the first hour. These tyres really roll well.
Entering the Sonian Forest in Duisburg I noticed some red bloso signage. Hmm, some future trailexploring looks mandatory. Through the Sonian forest, along the Zonienwoudlaan in Rode Saint Genese and before long I was in Dworp near the Hallerbos. I followed the signs towards kruispunt 50 before taking a left up the Dries into the Hallerbos. When I entered the forest I paused for a snack and to take a rest. I was some 40K into the ride.
Deeper into the Hallerbos and I could already spot the first of the typical blue hyacinths along with a lot of white little flowers which where already in bloom.
The up and down into Hallerbos brought me back into Dworp and I decided to take a little detour towards the Bois de Clauseweide and the hellish cobbles down the Dreve de Colipain.
When I passed the football fields in Dworp I noticed a big sign advocating some mountainbike routes in the area. It looks like they originated in Beersel. There are 4 routes with the 20.5K green one being the most hilly. Looks like a fine way to spend and afternoon exploring these new mountainbike routes.
Arriving at the Sept Fontaines I noticed the water in he big pond was at a very low level. There was a lonely goose making a lot of noise standing on a stone just outside the border of the pond.
I moved on and rode back whence I came. Into the Sonian Forest again and near the Duboislaan I paused to take a picture of the megalithic monument that was erected to commemorate the Forest Guardians. It was the first time I noticed it so it couldn't have been here for very long.
Riding back through Jezus Eik and into the Kapucijnenbos I could feel the warmth of the sun on my back. When I came out of the forest I noticed the stiff breeze from the northeast which would blow against me for quite a while. Duisburg, Korbeek Dyle and then past the Zoete Waters where I decided to ride up the Keiberg and then along the Langedaalstraat. A lost loop into Vaalbeek and I was nearing my home. A good solid ride, the tyres performed brilliantly and the bike was ok. Except for some noises coming from the bottom bracket during the steep climbs. Another bike that needs some TLC?

Endomondo track


Ride Stats : 90.5K and 1185 heightmeters (Garmin) in 4h02mins

2018/20730
24-03-2012, 16:16 geschreven door Big Bad Wolf