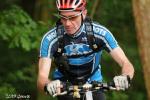 Been there, done that, got the T-shirt. Looks easy when you read this but this years' edition of the Meerdael Classic was not that easy. The weather had been very hot in the days leading up to the weekend , with a 33 degrees day on friday, and I didn't bike offroad since last monday. The fear of getting bitten by horseflies also kept me on the safe side of caution. Yesterday saw a little bit of rain during the day, but that was far from enough to change the dry conditions. This morning it was cool and fresh but it promised to be a good and sunny day.

The Ride :
Got out of bed at 6am and took my time preparing for the start. Around 7.27 I set off, having pre-inscribed I also had a T-shirt coming my way but I decided to pick that up after the ride. The first bit of the ride took us into a cool Heverlee Bos for what may be considered an easy warmup. The trail moves towards Korbeek Dyle, not before following a lesser known track to get to the Natur Natur center. The sun is out but luckily there are also clouds which keep temperatures bearable. Moving towards the Heverleebos again the trail takes us into Vaalbeek and then after 18K we arrive into Meerdael Forest at last.
The track through Meerdael Forest takes me over the Naamsesteenweg and towards Haasrode where a first rest stop awaits us at the Bremberg We are 23K into the ride. Lots to eat and drink but they might have offered something more Sports-people minded than cookies and chocolate bars. There is water and also some sports beverage.
After this welcome break the trail moves towards Bierbeek where we pass the start of one of the Meerdael Bloso trails. We also follow this trail, albeit in the opposite direction, and things are spicing up a bit now with the addition of a climb here and there in the Dikke Eik region. Passing the Naamsesteenweg again the trail now moves towards Nethen where more serious things await us. Starting with a nice singletrack followed by a technical descent into Nethen. A long climb over cobbles takes us up to the plateau but we descend right away back down and then venture into the Lianenklim. A local hotspot which consists of a long and technical uphill through a deep hollow road. Due to the dry conditions it is completely ride-able if you can deal with big sandstones, deep ruts and the occasional log. The trail then moves towards Bossut where a second rest stop is situated. 40K into the ride already. I borrow a pump to add some air to my rear tyre. Good thinking of the organisation to have a pump, chain lube and a small technical toolkit at every rest stop.
Down into Archennes for a first loop which leads us to a sandy uphill. I did not manage it, I believe few did. It takes us up into the La Malaise area where a tricky downhill has many a brake a-squealing. Back up and towards Nethen again after another stony and rutty descent. Having local knowledge of the trails certainly helps because I see a lot of people struggling trying to find the good path to take you down. Back up again through a long hollow road climb that leads us towards Pecrot. Here a first highlight of the Classic follows. Taking the railroad singletrack, followed by a long climb up the crest and then zooming back down along a man-made downhill with lots of berms and whoops. Down in Florival the 100K leaves the 67K for an extra loop.
The track now moves towards a beautiful long uphill along a very deep valley in the Bois de Laurensart. We are ride in file Indienne and it is impossible to pass the slower riders in front of me. I relax and take the moment to look around and gather my strenght. After a short stint on the plateau we drop down a very steep trail and arrive at the Gastuche side of Ottenburg. Slowly riding back up again between field and forest and we are set for a bit of fun next to Ottenburg. First a very small track leads me down to another track which takes me into a deep and lush valley. Covered with grass and surrounded by forest on 3 sides. A very beautiful spot. Here we meet the Red Overijse Bloso and they decided to take the next-to-impossible climb up the crest. They might have just followed the red and take the less steep climb instead. But no time to fret, we drop down again and I have to really dig deep to make the short steep uphill that follows. Crossing the road from Florival to Ottenburg for yet another climb. Crossing the road from Sint Agatha Rode to Ottenburg and down the tricky Oliestraat. I see a biker with a flat tyre. Careful here. Then follows the steepest climb of the day when we grind our way up the steep slope of Sint Agatha Rode Bos . I make it, lots of people don't. Crossing the road from Sint Agatha Rode to Ottenburg again, we did a loop , and a little further awaits the 3rd rest stop.
I meet someone I know from years back when he was still with the Blancs Gilets. We ride some time together but he is too strong so I let him move away. The sun is out more now, and when I ride up the Zavelstraat that takes us close to Huldenberg I begin to feel my legs. Obviously they could not leave out one of the trickiest uphills on the Overijse trails. I make this one as well. Kudos go to the Moots .
Down into Huldenberg again and then the trail follows the river Ijse for a while . A well - deserved break.
But not for long because now another highlight of this ride is upon us. They takes us into the Margijsbos and up the Smeyberg crest for no less than 5 climbs and downhills. Somewhere along those climbs we pass the 1000 heightmeters mark. Some nice singletrails here and they take advantage of every opportunity to make this 100K loop worthwhile. When we arrive in Sint Agatha Rode at last we get another easy bit before entering Marbaise and discovering the 4th rest stop.
Here the Red Bull girls are waiting for us. Pity their beverage doesn't do full justice to their looks. Its what Red Bull calls cola but besides it being cold it doesn't taste like much. I add it to what is left in my drinking bottle and move along for the last 12K or so. The trail now takes us back to Nethen where we enter Meerdael Forest again and have to tackle another couple of climbs. The zooming downhills now demand full concentration. With the strength fading from the legs, I tend to let things hang out a bit on the downhills. Not a good idea when they are dusty and full of ruts. Dipping into Sint Joris Weert for a little bit and then moving towards Meerdaelhof where a sign tells us what we already knew.
Only a couple of K to go now, before we reach the football field of the Zwarte Duivels, where I started some 6 hours ago for what proved to be one of the more difficult Meerdael Classics I have ridden. These are the facts as they appeared on my instruments after the ride.

When I got home I discovered I had been very lucky today. I had felt a bump with every turn of my rear wheel but I couldn't pinpoint its source. I thought it must have been because of my wheel being out of true. But then I saw this

. Scary to say the least. When you consider all the stones, lugs, cobbles, gravel and other nasties I have been riding over today its a small miracle that tyre didn't burst.

The Lowdown :
Not much can be added. Once again the Downhill Bikers have offered us a great ride. There were some new sections this year and - judging from the facts and the feeling in my legs - they made the ride more hilly. The organisers never fail to make the most of this region, without overdoing it. A subtle difference. Some new tracks - at leats for me - and several sections on the 100K distance that make this ride worth its while. This is the 18th version and of course this organisation is hard to fail. I might say they are nearly flawless.
If I am pressed to find a minus point I could say that they might consider adding some food that is more apt for Sports use. Cookies and chocolate bars only offer fast sugars, not the much needed slow ones.


What I liked :

+Great Trails, with attention to lesser visited tracks
+Arrowing was more than adequate and sufficient
+4 rest stops on the 100K
+Good signage before and after every split.
+Plenty of water and some sports bevarage, also Red Bull (+girls ! ) at the last rest-stop.
+Bananas and oranges are OK for Sports .
+Well organised bike-park with easy system to collect your bike afterwards

What I did not like:
-not enough variety in food offerings. Cookies and chocolate are not exactly energy food for Sports.



Ride Stats : 114K and 1380/1525 heightmeters (Polar/Garmin) in 6h14mins
TT Stats : 100K and 1490 heightmeters (Garmin)
Hill factor : 14,9

4952/52690
04-07-2010, 00:00 geschreven door Big Bad Wolf