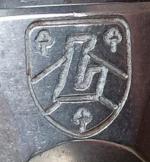 Another sunny day and I left around 10.30am for a ride that would take me to Filip Sport. When I came in Terlanen I saw markings of a race that was going to be held this sunday, so I decided to follow those as long as they did not let wander too much of the chosen path to Hoeilaart. The trail was quite hilly with the Smeysberg for starters, then dropping into Huldenberg and out again in the direction of Duisburg. Passing the ganspoel I could feel the wind tearing at the back of my shirt so I already knew that the return journey would be a difficult one. But hey, the sun was shining and I felt surprisingly good after yesterdays 100+ ride. In Duisburg the race track turned to the right but I chose the direction of Eizer. From Eizer straight on towards Overijse and then dropping onto the road to Hoeilaart.
Talked with Filip about the headbadge of my Vortex and it looks like he will be able to install it soon. Pro memoria, he had to order a special type of glue to attach the aluminum headbadge to the titanium frame. We also talked about the upcoming Harre mountainbike ride. I am a bit weary to ride offroad because the old enemy, the horsefly, is around and I don't want to risk getting bitten. But I want to do this ride so I will take all precautions I can take - long trousers, lots of Deet and my special anti-horsefly mix - and then hope I can survive 5 hours of riding in the forests. To be completely at ease I have asked for the guide to mail me the GPS track of the ride, so that I can check if it can be cut short, should the need arise, and where we are back into civilization. Waiting for a reply..
I left Filip and because of the fine weather I decided to add some K's to my original 50-60K plan. Towards Maleizen I rode, and then down into Rosieres and up again towards Rixensart. Wavre and onwards to Dion Valmont. Adding quite a bit of hills to the ride, just to see how the legs would take those. And they took it fine. From Dion I rode towards Bonlez and then onwards to Longueville. Another long hill and now I began to feel the wind . When I turned towards the north I got it full on. I had to think about some lyrics from a Judas Priest song:

"Been inclined to wander
Off the beaten track
That's where there's thunder
And the wind shouts back"

No thunder luckily but the wind was indeed blowing with a vengeance. But the air was cool and crisp into my eager lungs. From Longueville I rode towards Pietrebais to avoid the high plateaus and return more or less protected by the valleys. Into Grez and then upwards to Bossut. From Bossut the road took me on a half cobble-half tarmac road towards Pecrot. Up the steep hill - this one really hurt after 80K - towards Nethen. And then the last stretch from Sint Joris Weert to the Zoete Waters and Vaalbeek. Good ride.

I got my Samsung Galaxy S II today. I ordered one when my Galaxy S turned into a brick. The S is still chez Samsung to be repaired but now I already got its much faster successor.
At first touch it looked fast. But I want to wait until I receive the NoReve leather case before I start using it. Better be protected..

Ride Stats : 101K and 915/920 heightmeters (Polar/Garmin) in 3h58mins

3894/41240
03-06-2011, 16:23 geschreven door Big Bad Wolf