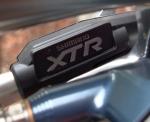 Received some good news and some bad news about the bikes I have. The problems with the bottom bracket on my Litespeed are solved. No idea what it was but I will find out when I go to collect the bike. On the other hand, Filip Sport has some problems closing the NoTubes solution on the rear wheel of mu Moots. The tyre is a brand-new Continental Mountain King Protection - a favorite of mine - and yet the fluid cannot be contained in the tyre. Funny enough the front tyre - same make, same model - didn't pose any problems.
This meant that today I had to take the Merlin out again - as if I minded - for a recon of the 45K track of the upcoming Meerdael 2000 ride. This organised ride takes place on october 31st so mark that date in your organisers, my readers.
The 45K has some nice tracks and offers some astonishing climbing and descents. Check the map below to find out where it goes. There are 2 rest stops, one in Gottechain and the other one in Sint Joris Weert, and the Red Bull girls have agreed to be there. So be there or be square, I would say.
Personally, on the 31st, I will be aiming for the 65K, as a member of the organisation. I will leave very early to check the arrowing. The 65K is a beast compared to the 45K, I think the extra 20K offers more or less 450 extra heightmeters. So not for the meek or easily impressed. If I find the time between now and then I might recon it and put the trail map here.
I could maintain a good pace today throughout the ride. Having started more or less relaxed, to warm up in the 5 degrees C and northerly wind. But once I got out of the forest for the first time, and onto the plains towards Gottechain I could put the hammer down and let the bike and my legs do the work.
I had a great ride, the trails were super, a bit moist here and there and getting trickier every day now with the falling leaves. When I arrived at the Zoete Waters I bumped into a big group from BigM. Said our hellos and had a little chat. They were just finishing a Meerdael Forest ride, I only had 6K to go to close todays loop.

Ride Stats : 45.5K and 510/565 heightmeters (Polar/Garmin) in 2h16mins

7578/80755


17-10-2010, 00:00 geschreven door Big Bad Wolf