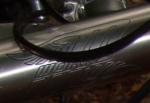 Today was another warm day, but around 3pm it started to get overcast, with thunderstorms announced. I decided to ride out, making the most of the warm september weather before it would run out on us.
I started - again with the Merlin - towards Heverlee forest. Crisscrossing at the start and then more or less following the green Bloso route . When I crossed the Naamsesteenweg I decided to leave the Green trail and started again following some smaller trail. The tracks were easy, the Merlin was smoothing all that came into its stride, and the kilometers added up on my counter. When I reached the Zoete Waters I fell a couple of drops but a look at the sky teached me it would still be some time before any real rain would fall. So I entered the Kouterbos and made my way towards the Meerdael Forest, passing the Kluis and then circumvening the forest at its Nethen edge.
Taking my time to climb up to the plateau I then made my way towards the Warande pond and crossed the Naamsesteenweg again to make my way into the eastern part of Meerdael Forest and Mollendaal forest.
I then decided to call it a day when the number of raindrops started to increase. But I didn't see any real rain until I got home. When I am typing this, however, a real thunderstorm has just past the Meerdael region. Short but with quite a bit of rain and a lot of wind. Good thing I didn't wait longer to start my ride. I made the most of the short Indian summer we enjoyed these last couple of days. The trails were still perfect today and I already felt a bit stronger than 2 days ago. Even though I still have to take my antibiotics for 7 more days I feel confident that, if I keep the intensity low, I can keep on doing these short easy rides in the forest .

Ride Stats : 32K and 270/320 heightmeters (Polar/Garmin) in 1h41mins

6912/73440
23-09-2010, 18:51 geschreven door Big Bad Wolf