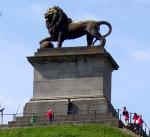 Great weather this morning, the sun was shining and the wind was blowing from south-easterly directions chasing the temperatures into the low 20 degrees C. I wanted to do a long slow ride and decided to start out in the direction of Maleizen and see if I could find my way towards Waterloo. I had been there once before by bike, a couple of years ago whilst doing the Braine Adeps routes. We got caught by a thunderstorm at the end of the ride and my guide chose to ride back towards La Hulpe and Maleizen. The wind was blowing quite fiercely and I was suffering during this first bit of the ride. The traffic between Maleizen and La Hulpe was rather heavy and the road was on the narrow side, not offering the relative safety of a bikepath. I kept following the direction of Waterloo and after a while I saw the Lions' Butte sticking out on the horizon. Getting there proved to be quite an ordeal because I had to cross a couple of big roads. Fortunately there were seperate bikepaths but finding them wasn't always easy. Near the Waterloo museum I took a little rest and some pictures.
In my mind I had a plan to ride towards Halle from here. So I followed the direction of Rode Saint Genèse and later Hal. The busy but straight road to the north was a relief because the wind was now blowing in my back. I couldn't resist riding towards Sept Fontaines and do a little loop into Hallerbos. I figured the bluebells would be in bloom and I wasn't wrong. Indeed they were, and by the looks of it they had already had their prime. Still the smell and looks of the blue flowers growing between the trees brought back happy memories from years past. In the time BigM was still alive we used to ride over here with the group during this time of the year. Now there hasn't been any initiative at all in this direction. Which is a pity because it is a great area to ride in and it offers lots of fun for every category of biker - from the mere beginner to the more advanced. Again I couldn't resist taking a couple of snapshots.
Riding back towards the Sonian Forest I grazed Tervuren to make my way towards Leefdaal. Here I turned into the wind again. This time it hurt even more because I began to feel the exhaustion from the long ride. At the end I had an even 100 kilometers and an amazing 820 heightmeters. I felt tired but happy nevertheless to have made this ride.
Ride Stats

: 100K and 820/822 heightmeters (Polar/Garmin) in 4h29mins
Ride Map

:
2621/22080
10-04-2009, 18:19 geschreven door Big Bad Wolf