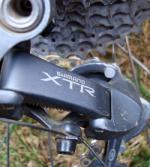 Had the idea to ride the track from the 2008 Haasrode TT again. Or at least what I call the raw track. The actual TT cut some corners here and there to soften things up a bit and keep the actual distance below 65K. This is what you might call the heavy duty version. I put the track into my Edge 705 and reversed it. I also rode this track in november 2008 so you can check my story there for more details and a view of the map.
I didn't pass through Haasrode today since I cut the track short starting in Blanden and staying in Meerdael Forest instead of riding the last and first couple of K's to and from the start.
First passing in Mollendaalbos and then exiting the green and cool Meerdael forest near Valduc where the sun was awaiting me. Through Tourinnes la Grosse and then moving south towards Gottechain. Here the serious things start as the ride moves towards Pietrebais and Cocrou. Even further south to reach Longueville where a lot of heightmeters make the gears, and my legs , grind. When I finally reach Heze I already have 600 heightmeters and 47K.
I then move towards Grez Doiceau and Gottechain again where a mean climb awaits me. Towards Archennes and then up the crest to connect to Nethen. Disappearing into Meerdael Forest for a loop that takes me back down towards Nethen. Here I have to climb towards the Bois de Beaumont where I can enjoy a lovely view of Nethen basking in the evening sun.
Down towards Nethen again and passing the camping La Hetraie I stop and have a drink at the well. Climbing again towards the Kluis where I join the Blue Bloso. Down past the Kluis main building , up the hill and back down again towards the Savenel. The passage in the deep sand just before the climb makes me dig deep into my strenght. And I am glad when I close the loop I started at the Naamsesteenweg. This is indeed a difficult track and it would be a real challenge to let the TT riders to this track. But the final track will differ I'm sure. Nevertheless it will make a lot of riders suffer on August 22nd, when the organised ride starts at the Sports Complex in Haasrode. This is one of the better rides in this region, so why not try it yourself?

Ride Stats : 70K and 830/975 heightmeters (Polar/Garmin) in 4h5mins30secs

6088/64305
06-08-2010, 21:33 geschreven door Big Bad Wolf