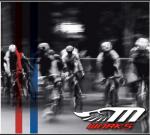 Project 25 has been kicked off officially yesterday. I ordered a Merlin Works 4.0 frame during the last week of August and yesterday I rode over to
Filip Sport
to discuss the buildup. I am very excited about this project since it will be my first real fullsuspension bike. Does this mean that I'm getting old or am I just getting smart? This is the buildup, some details might still change.

I have decided to go for the Dt Swiss XR 1540 wheelset, which is light, easy on the maintenance and very well made. I would like to run notubes on this bike and I will probably mount another saddle as well. I'm not sure yet about the color of the seatpost, I might opt for a black one but am inclined to go for a silver Thomson . I just have to see how both colors present themselves on the bike. Shifting as well as the crankset will of course be buttersmooth Shimano XTR and the brakes will be the new Hope Mono Mini Pro's with Shimano XTR rotors. The Rock Shox Reba World Cup seems a logical choice and its white color looks good against the titanium. The rest of the buildup can be viewed on the list above.
ABG already provided me with a Merlin Works race jersey and vest, a nice gesture for sure.

On the biking front : After a few days of rest I will ride out again tomorrow, starting easy on the road.
12-09-2007, 00:00 geschreven door Big Bad Wolf