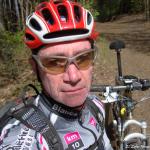 A little more than a year ago O2 Bikers published a GPS roadbook starting in Grez Doiceau. I saw the potential of that 35K loop and quickly added a couple of other tracks to make it a bit spicier and incorporate a couple of tracks the guides that produced the O2 Bikers loop wouldn't or couldn't add to their loop.
Since I was at that time offering to guide a ride to a couple of friends, one was called Julie, I named my track the O2 Grez Julie track. Since then many moons have passed, Julie has yet to ride this track but it has seen a couple of changes, making it a bit tougher every time. Today I rode to Grez to ride the Julie 3 and add another climb near Gottechain to add a couple of heightmeters and thus producing Julie 4.
Nature was in full bloom, the weather was warm with a 21 degree C average temperature and a wind blowing from the southeast. I still felt my legs from thursdays's ride so I took it easy. As far as "taking it easy" is possible on a trail that is around 58K long and counts nearly a 1000 heightmeters. You can check the trail on the Garmin Connect website and I also offer it as a download. If you ride it I would very much appreciate your comments.
When I left Heze I saw another trail that I could possibly add, so Julie 5 is already germinating in my mind. The last couple of kilometers were very tough, passing through Pietrebais a couple of times, with some very fine singletrails and hairy descents.
The trails were as dry as a bone. The only bit of mud I saw was in Bonlez, where a small singletrail takes you next to the river Train. There are some wells always leaving the trail wet. I stepped off my bike and walked. The river is very close by here and when you should slide away and fall into it - even with the warm temperatures of today - it would not be very healthy. Another wet spot was on a small singletrack near the river Pietrebais, where you have too cross a little rivulet a couple of times. When I arrived back in Grez Doiceau I felt tired but very satisfied with yet another great ride. I saw some markers for an organised ride. I'm guessing its the one starting at the College Technique St Jean in Wavre tomorrow. They took some of the trails I was riding so I would heartily recommend anyone to start there tomorrow. With the current weather and trail conditions it is great to be out there.

Ride Stats : 79K and 1065/1160 heightmeters (Polar/Garmin) in 4h39mins

2919/29355
24-04-2010, 17:27 geschreven door Big Bad Wolf