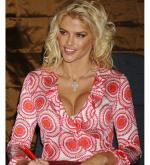 Yippee. Today the weather had turned, it stayed dry all day and temps rose to 8 degrees C. So I hasted home after work to get in a 2 hours ride before darkness fell. I made it and came home just in time before dusk. Had a great ride, my left wrist still hurts and I think I won't be going offroad just yet, moreover the conditions 'out there' are really bad, muddy and soggy.
I dedicate this ride to the memory of
Anna Nicole Smith
, born Vicky Lynn Logan , who died yesterday, found collapsed in an hotel in Hollywood, Florida. Lots of people saw her as a bitch who was lusting after money , and doing just about anything to get just that. But lets not forget that she also was a very beautiful woman, vibrant and living life to the full perhaps, but who is now death, in circumstances that vaguely remind me of
Norma Jean Mortensen
's (aka Marilyn Monroe) demise. Cursum Perficio, Anna Nicole.
Ride Stats
: 46K and 330 heightmeters in 1h55mins
1226/8660
09-02-2007, 19:06 geschreven door Big Bad Wolf