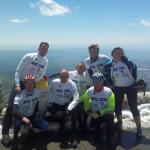 The second day of our great adventure started out dry, leaving the Ibis hotel in Charleville-Mezieres , but soon it would start to rain, a little drizzle at first but that soon changed to light rain. The first part of the ride consisted of two gradual climbs and then we would descend into the valley of the Aisne. It had been raining quite considerably in the north of France the last couple of days and this could be seen by looking at the amount of water standing in the fields and the rivers. Gradually we made our way south, with the rain and a strong headwind as our companions . I got a flat rear tyre and changed it.
It is funny how quickly I adapted to the rain. Of course, I HAD to, but still it took some time to flick the switch in my head and just go ahead and ride. Never mind the rain, if it wants to fall, let it fall. There are much worse things in life. One only has to think about the cause for which we are riding. Cancer. Why be bothered by a little wetness from the sky? That is peanuts compared to what cancer does to people.
Entering the Champenois area would have been a much more exciting experience had the rain stopped. As it was, we climbed the Montagne de Reims in a subdued way, riding through the magnificent forest on top of it before descending into Mutigny. This was the first steep and long hill of the adventure, and it took the legs some getting used to, to get into the rhythm. The fresh young wine ranks were greeting us as we made it to the top of a steep hill, where we could overlook the Moet and Chandon winefields.
The steep descent was fun with my mountainbike experience, being careful not to slip on the muddy and wet tarmac. At the bottom I stopped, took a few pictures and waited for my fellow cyclists to arrive. After crossing the river Marne we arrived in Epernay. It had dried out by now but I could hear the rumble of a thunderstorm in the far distance. In town that evening we had a fine meal in one of the big restaurants, with champagne as aperitif of course.

Endomondo

Ride Stats : 118K and 755 heightmeters (Garmin) in 05h41mins
19-05-2013, 00:00 geschreven door Big Bad Wolf