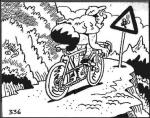 Today saw the temporary return of some dryer weather, so when I got home from work I decided to go out and do a little ride on the road. I vaguely had a plan to follow a route I discovered more than 6 years ago and which I call 'Mottige Bergskes'. This loosely translates as "Very Awkward Little Mountains" and I call it like that because at the time the markings on the road consisted of an
M
and a
B
inside a big white arrow. Moreover , this route, which started all the way in Berlaar (thats what the B really stands for) went over some pretty tough and steep little hills ,so thats where the Little Mountains ( Bergskes ) comes from.
Well, whatever you want to call it, the markings have long withered away but I do remember some of the most difficult of the hills and I did some of those today. The route took me through Pécrot, Wavre, Dion Le Mont, Basse Wavre, Ottenburg, Tombeek and Terlanen to give you a vague idea.
I was not feeling great at the start and the fierce wind made it difficult at first to get a good pace going so I took it fairly easy. But once I was about one hour into the ride, things picked up nicely. The last 25K were awesome with the wind pushing in my back.
The weather forecast for the weekend doesn't look too great for the moment. Saturday will be almost dry but Sunday is for the moment dripping wet. Hope to get my Litespeed back tomorrow evening so that I can at least try to attend the Rode Lintjes tocht in Hamoir which is planned for saturday.
Ride Stats

: 60.5K and 580 heightmeters in 2h39mins
4100/34330
10-05-2007, 19:59 geschreven door Big Bad Wolf