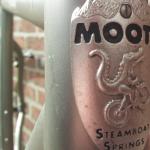 Time for another ride with the Moots Psychlo-X. Started out early but the wind was already out, blowing hard and cold from the south. I started out riding towards Bierbeek, Meldert and Hoegaarden. Here I got on the Ravel 2 . The wind was now blowing straight into my face, making the ride difficult . The Ravel 2 climbs gradually all the way and I had some difficulty keeping the chain on the big ring. But it is still early in the season so I guess I have to get stronger.
Riding past Jodoigne towards Eghezee the small tarmac road was covered in snow at places, some of it too high to ride through. Around Molenbais-Saint-Pierre I was forced to take a little detour. With a mountainbike I might have tried it, but with this bike and its narrow tyres I did not risk riding through the feet-high piles of snow.
I was trying out the Vincero Designs bottle holder today. It performed well. A full bottle was being held by the magnetic patch over cobbles and other holes and bumps on the roads. Looks to be a good design.
Forking to the right towards Perwez I had the wind on my side instead of full in my face . Quite a relief and when I turned right again on the N91 it was blowing in my back. Not a minute too soon, the wind taps strength considerably. Passing Pietrebais I took a right turn again, crossing the N240 and riding through La Bruyere towards Beauvechain and Opvelp. Left turn towards Bierbeek and the last stretch from Bierbeek through Haasrode towards Blanden had the wind blowing in my face again. I was glad to be home after this strenuous ride.

Endomondo track


Ride Stats : 67.5K and 425 heightmeters (Garmin) in 02h36mins

Arriving home I had to convince myself to get on the Tacx Satori for half an hour in order to cool down the muscles. Riding at a steady but fast pace and at a low resistance.

Ride Stats : 22K in 00h32mins

3333/8050
17-03-2013, 14:14 geschreven door Big Bad Wolf