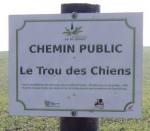 Dry but overcast this morning. I set out with the Litespeed for a first attempt at a 1000+ heightmeter ride this year. I chose to do the 54K version of the Accro Bike, a ride starting in Grez-Doiceau and normally good for around 800 heightmeters. Riding very relaxed towards Grez Doiceau already yielded me 12K and 100 heightmeters. The advantage - but it can also be a disadvantage at times - of knowing these trails by heart and also knowing a lot of other trails in the neighborhood, is that you can combine the path of the chosen ride - the Accro Bike - with some extra trails. Obviously, in a region that is comprised of deep valleys this leads sometimes to more climbing and descending than you have bargained for. I managed to stay on the trail until I reached Cocrou. From Cocrou there is a steep climbing leading into a stretch of forest - I had 23% on the Garmin at one point - and then the trail normally stays on the ridge with Pietrebais on the left. But I veered to the left and down into Pietrebais only to climb out of it again to rejoin the trail. Hopsa, an extra 50 heightmeters. The trail then goes towards the Chapel in Longueville where it turns to the right in the direction of Heze. Here it joins the 42K version of the Accro Bike. A bit further I added another extra descend/climb into the Gorge du Loup - the Wolves Throat - which yielded me another 50 extra heightmeters. But after that I decided to stay on the track. My legs were beginning to make themselves feel and I wasn't even half way. Some good stuff into Chaumont Gistoux and I took a break on top of the first 'impossible' climb. I made it, the track was steep but offered very good traction. I made some pictures, had a bite to eat and set forth on the remainder of the trail.
I had been noticing markings indicating 'Challenge du Brabant Wallon' and I was wondering what that was and when it was going to pass here. Might have already taken place. In this part of Brabant Walloon they are not very strict in imposing removal rules for markings of organised rides. If you place a marker in the Flemish part of Brabant, you need to remove it within 24 hours after the event, otherwise they may refuse you passage the next year. In Brabant Walloon I stumbled upon the markings of the Archennes ride "Boucle des 5 Rivieres' which took place last sunday. If I chose to I could have done the entire ride, I am pretty sure none of the markings have been removed -yet. Oh I did do an extra loop coming out of the Bois de Chaumont and riding up towards Aftia. An extra climb - obviously - and then the trail took me down again towards the river 'Le Train' and back up and down towards Bonlez. My legs felt refreshed after the break but they began to make themselves feel again. The Accro Bike is a relentless succession of climbs and descents, very tough and demanding a high level of concentration. The downhill next to the Golf Course in Bercuit was too steep and too tricky so I walked a few metres. A long climb followed up to the 2 Chapels in the Bois des Neulettes. This is Wavre and also the furthest west the trail will go. Under the N 25 and again another 'impossible climb' in the Bois du Tour. Which again I was able to ride completely - with an audience of 3 Enduro Bikers who waited patiently until I cleared the narrow and steep gully. Thanks guys ! back under the N25 through a tunnel and then, instead of going all the way down into Dion Le Val, I turned a sharp left back towards the N25 for another climb. Just before reaching the N25 again, I took a right and descended along a nice singletrack that lead to a field road leading into Dion Le Val. Now I only needed to clear 2 more climbs. Just before entering Grez Doiceau again I passed the 1000 heightmeter mark on my Garmin. I later checked and it seems this version of the Accro Bike 54 lasted 56K and yielded me 900 heightmeters. Not bad.
The ride back home was tough, because my legs and lower back were really tired now and I still had to clear two tough climbs. The first one out of Archennes towards Bossut. I took the sandy trail, very difficult but again somehow I managed to complete the whole climb. Dropping into Nethen after that I had another steep climb - this one on tarmac - waiting to take me towards La Trace and into the Meerdael Forest. There I took the Kromme Dreef towards the Prosperdreef which I followed all the way back into Blanden. In all I had a very rewarding but very tough ride. I was pleased to see my average speed was nearly 17kph with an average heartrate of 133bpm. The forecast for tomorrow looks rainy so I am glad I did this ride today. For those who want to give the Accro Bike 56K a try, I uploaded todays gos track to Motionbased.
Ride Stats

: 81K and 1170/1181 heightmeters (Polar/Garmin) in 4h48mins
GPS track

of the Accro Bike section on

Motionbased

: CLICK
1496/12260
07-03-2009, 18:14 geschreven door Big Bad Wolf