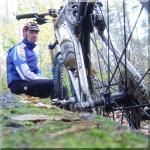 I had been asked to lead a group on a ride today going from Theux towards the Signal de Botrange (highest point of Belgium) and back again. Something that is known as 'The Longest Downhill' and a ride I have been refining for a few years now to yield some 65K and 1000 heightmeters .
The weather looked bad and I wasn't too eager to go out. So I tried contacting the organisers but got no reply. I drove to Theux (one-hour drive) to check out who would show up, and possibly propose a shorter ride to them, only to find NO-ONE at all at the rendez-vous point.


Pretty pissed off

I was, it was raining and with about 5 degrees at the start I didn't even want to contemplate doing a ride over there all alone. Back home I drove (another hour lost). I got a call from one of the organisors saying 'the other guy' was handling the mountainbike event , but up till now the 'other guy' hasn't returned my SMS'es. If he worked for me he would be surely fired !
So, since I was all geared up and upon reaching Leuven came into dryer weather, I decided to ride into the Meerdaelwoud and do the first and third part of my Secret Meerdael Loop. I got my little Sony camera with me to take some piccies and set off. And what a great ride I had. Sure, it was muddy but my waterproof socks and pants stopped all wetness and cold from bothering me. The sun was shining now and I got some great shots of toadstools and some nice forest colors too. The ride was very tiring physically and that added to the mental strain from the debacle this morning has me now rather tired. And I still have to wash my bike, but that is something I will not forget.
I'm still waiting for a call from Mr.Organisor and I figure he owes me 2 hours of my life and some 16 litres of fuel.
The Ride Stats
: 42K and 550 heightmeters in 2h50 minutes
18-11-2006, 15:58 geschreven door Big Bad Wolf