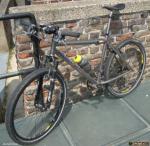 I had noticed some big blue arrows when I was riding the 1W tour earlier this week and today I wanted to see where they were heading. I noticed they also passed in Blanden so it was easy for me to pick up on them. At the Zoete Waters I noticed they were running double. In the direction on Korbeek Dyle and also coming from there. So I guessed the start must be somewhere near Leuven and followed the arrows towards Sint Joris Weert and further on. Quickly I noticed there were markings for something called the Biz On The Bike tour that seemed to be following the same trail as the big blue arrows. The trail meandered nicely in the region of the Smeysberg and then towards Ottenburg and Pecrot. Here there was a first split. 57K in one direction and 100 and 145 in the other. The heat notwithstanding I felt good and decided to try the 100K. After all, I would never reach a full 100K since I didn't do the coming and going from the start, right?
The trail kept on going up and donw in the region of Chaumont Gistoux and Longueville. Some very beautiful passages here and I was quite enjoying this. The sun was obscured by clouds from time to time and I had to use my one drinking bottle sparingly. I had passed a feed zone for this ride, just before the split in Pecrot, but obviously I was not allowed to stop there. I did not pay an entrance fee, I was merely following some arrows on the road.
Just before the crossing of the N91 in Incourt, there was another split. The 145K veered to the right and the 100K went straight ahead. I decided not to push my luck and stayed on the 100K.
The trail went into Dongelberg and then merged with the 1W route going towards Lathuy and Melin. In Melin the 1W veers to the left towards Sart, but this route turns right and goes on through Saint Remi Geest, with a passage on cobbles where I had the advantage over the guys with the racebikes. In Hoegaarden there was a second feed zone. From Hoegaarden the trail then climbs up on the crest and through smaller trails reaches Hauthem and makes a little detour towards the Marollen Chapel. Here I stopped but I noticed a lot of the racebike guys seemed to be taking a shortcut somewhere.
The trail then goes on towards Hoksem and Kontich before turning towards Willebringen. I really was getting though my drinking bottle and began to look around for places where I could score something to drink. But I found nothing. Moving through Neervelp and then towards Bierbeek I was only 10K from home anyways so I rode on. A car pulled up alongside me when I was climbing towards the World Globe in Bierbeek and my friend Roger emerged from behind the window. They had been to the Ardennes for a ride and he was asking if I wanted to join him tomorrow for an offroad ride. Honestly at this point I cannot say. I feel tired and will have to wait to see if I can recover sufficiently .
I have been trying a new product against horseflies . It is a recipe from a friends' wife, who uses it to protect her horses from the voracious insects. It smells like citronella and pickle juice but it seems to be working. I haven't tried it offroad yet. The smell is bad enough to scare away all living things. I have been using it for 2 onroad rides now . There have been no stains on my clothing and I haven't seen any insects on my clothing. Lets hope I don't react to any of the ingredients but so far nothing has happened.
Todays' ride was a good one. The trails from the Biz On the Bike event - I just learned they started in Heverlee - were great and offered a good alternative for future rides as well. You can check their website here : http://www.bizonthebike.be/ There are downloads offered for the 3 distances .

Ride Stats: 91.5K and 735/840 heightmeters (Polar/Garmin) in 4h10mins

4773/50615
26-06-2010, 16:28 geschreven door Big Bad Wolf