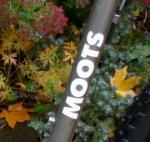 I had a good plan for todays' ride. It looked like it would stay dry so I wanted to ride out for a long ride. The first one on the Moots YBB this year. This bike got new NoTubes fluid in its tyres and also a new chain, cassette, middle and big ring over the winter recess.
I had plotted out the Beersel Green trail on Mapsource and combined that track with a shortened version of the 35K Hallerbos roadbook I have ridden a couple of times. This yielded me a 40K/800 heightmeters track I saved on my Garmin 705.
Riding towards Hallerbos along the usual way, passing next to the Margijsbos, de Ganzepoel and then into the Sonian Forest at Duisburg, to emerge at the Middenhut whence I rode along the Zonienwoudlaan until I could pick up on the Green trail in downtown Alsemberg. The Green trail turned out to be a very nice trail. Lots of climbing and the signage was perfect. Some of the tracks are only singletracks and the trail twists and winds itself in a big counterclockwise loop around Dworp. At one point I noticed Brussels on the horizon and I also saw the Sint Pieters Leeuw tower looming in the distance. The sun was peeping through the clouds and it became a couple of degrees warmer. But still it was only 12 degrees out there today. But that suited me fine. Moots windstopper, long trousers and I didn't need to worry about getting too warm.
When I reached the Rilroheidestraat I was on the second of my planned loops for today. Into the Hallerbos for some great trails with also a lot of climbing and descending into the many valleys. The hyacynths were nearly gone but here and there they still were in bloom.
Stopping for a snack because I felt this ride drain the energy out of my legs at a quick pace.
The bike was OK except for the front derailler that was set up a little bit tight on the outward throw because I could not shift on the big ring most of the time. I need to adjust the throw just a little bit so that the cage goes a couple of mm more to the outside, making the shift to the big ring a sure thing.
The last couple of kilometers came and passed and I was back at the Rilroheide where I picked in on the Beersel Green trail again. This last section proved to be quite difficult. A combination of me getting tired and the climbs getting steeper, making my way towards Alsemberg again. I was glad to see the big church which meant I was nearly at the point where I got on the route, a couple of hours ago.
Riding back home along the Zonienwoudlaan I knew I had to pace myself. The wind was blowing in my face and I was glad for the cover of the Sonian Forest. Coming out of it into Duisburg was tough again . The legs were feeling really tired now and I also felt my shoulders and arms stiffen from the hours of biking. But I made it and it felt good to have such a solid ride out again after a couple of days of staying off of the bike due to the varying meteorological conditions. I include the GPS tracks of both the Beersel Green Route and my Hallerbos 20K ride for those who want to try either - or both - of those for themselves. Be warned, the region is quite hilly and both trails offer nearly 400 heightmeters for a 20K ride, that a HillFactor of 20.

Endomondo track


Beersel Green Route at EveryTrail
EveryTrail - Find hiking trails in California and beyond

Hallerbos 20K at EveryTrail
EveryTrail - Find the best hikes in California and beyond

Ride Stats : 108K and 1540 heightmeters (Garmin) in 5h40mins

3397/34945
12-05-2012, 18:35 geschreven door Big Bad Wolf