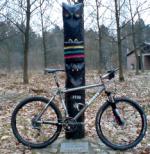 After seeing the women and the men elite race in Hoogerheide I wanted to ride out myself. Today saw less sun than yesterday, with clouds setting in from the east, promising snow during the night and next morning. A good hard track was to be expected and I took this opportunity to have a first ride with the Moots and its new fork. A shiny Magura Durin SL 80. I rode into Meerdael looking for some climbs and descents to see how this fork would make the bike behave. From the onset I noticed that the ride would be firmer than with the Fox. A good thing since I found the Fox to be a bit soft. The Magura offers a relatively stiff ride, not bouncing or bobbing when climbing yet offering enough dampening to take the big hits with ease. Obviously the front wheel has the same or even slightly more lateral stiffness and the bike is a real ace on twisty and and turning singletracks. I had to look out for the frozen ruts which had my wheel jump unexpectedly during a couple of descents but I was never in trouble, always in control. I did feel the tyres getting harder during the ride, especially in the back. With an average temperature of -1 degree C it is clear that the workings of the suspension are a tad more stiff than in normal temperatures but I still managed to get nearly 7cms out of the 8 available in the front fork.
Overall the Magura performs as expected, but I will have to ride it some more in normal temperatures before I can begin to fine-tune the air pressure. I had been warned that the Magura fork would run a bit wet - meaning that there is some oil on the inner tubes after a ride - so I wasn't worried or surprised when I notice a light oily film on the tubes after the ride. The 200grams gained in the fork also makes for a noticeably lighter front end. The Moots has always been an excellent climber but now it has become even more nimble and vivid making it living up to its name - wh
YB
e
B
eat.
I managed to take some pictures even though the light was fading fast due to the approaching dusk.
Ride Stats

: 20K and 395 heightmeters (Garmin) in 1h19mins
534/4700
01-02-2009, 18:54 geschreven door Big Bad Wolf