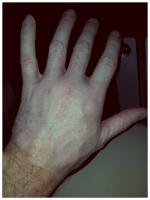 4 weeks after my fall on that woorden bridge in the Doode Beemde it is time to evaluate how the healing process is coming along. The first week was spent in a cast. After the cast came off my hand was swollen and red but most of the swelling and coloring was rapidly disappearing and after 3 weeks all that was left was painful joints and some minor swelling. All the fingers are functioning well and making a fist is easy. But I am far from healed. The pain when I move my fingers to the side is still numbing. The swelling is still there and will be there for some time to come. Getting on a bike and cycling outside is a far dream.

Lucky that the weather is deteriorating towards winter but the will to cycle is great. So far I have been doing forest walks in the weekends, netting around 20-25K and that keeps me busy and with a feeling that I am at least doing something.
Since cycling outside would cause too much pain - and the risk of falling again before everything is healed - I have decided to get on the rollers. My old rollerbank is worn and does not fit modern bikes. So I just ordered a TACX Satori from Chain Reaction Cycles .
That way I can cycle without putting any unnecessary strain on my wrist and hand. Looking forward to receiving it and start to cycle !!
23-11-2012, 18:09 geschreven door Big Bad Wolf