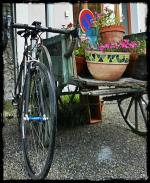 It has been a while but today I finally got the Litespeed Vortex out for a ride. Since last year I changed the cassette and 50/34 chainrings and mounted a YBN SL-210 full titanium chain. Very expensive but I have had it laying around for a couple of years now so I figured I might as well use it.
I was weary getting back on a road bike because of the added speed, racy position and lack of comfort with tyres pumped up to 100psi/7 bars. But the titanium of the Vortex does dampen the shocks quite well. Obviously I was curious as to how my lower back would react to this bike. My knees have been giving me trouble as well. Since I couldn't resist running a week and a half ago, my inner medial band is hurting. Went to the doctor and she said I have developed a slight O-leg stance so this put extra strain on that inner medial band. If I am serious about running, I should consider putting inner soles in my shoes to put my legs in a neutral position.
That being said, rediscovering this bike was a blast. It is fast, light and nimble and it demands a whole different level of awareness whilst riding in traffic and on these thin tyres. I put on a 21mm tyre in front but I changed that to a 23mm version as soon as I got home. I also put in a Joe's No Flat inner tube. Filled with Joe's No Flat racing fluid this inner tube weighs 50g more than a regular inner tube. I hope it lives up to its name. I have another one in stock in might put in my rear tyre one of these days.
The ride went well, it was fresh outside with temps just over 10 degrees C but it was sunny. A stiff breeze blowing from the north bothered me in the beginning and at the end of the ride. Doing just a quick lap to become used to the bike and after 31K I was home again.

Endomondo track


Ride Stats : 31K and 200 heightmeters (Garmin) in 01h04mins30secs

2242/4450
03-05-2014, 12:49 geschreven door Big Bad Wolf