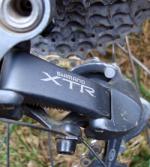 I was unable to attend the Chaumont Gistoux organised ride - the rando des cocquelicots - earlier this year, so I was glad that my friend Roger sent me the GPS track of the 45K distance. That way I could ride this track whenever I chose to do so. Today looked like a good day for it. The forecast called for cloudy skies, a small chance of a shower, and temperatures around 20 degrees C.
So I rode out towards Grez Doiceau, where I could pick in on the track. I noticed that the cool wind from earlier this week was gone, instead the wind felt a lot warmer. Due to me wearing long sleeved trousers and shirts, that was not a good thing. But the alternative was even worse so I gritted my teeth and wore my cross with pride.
The trail then : from Grez it turns towards Cocrou where a long climb in a sandy hollow road awaits. Good thing it had rained a little bit which made the sand just hard enough to ride it. I have been here many times before and when this sand is really dry, you walk. After this climb a drop into a green valley near Longueville and a passage along the Chapelle du Cheneau before dropping into the Heze valley.
Here the trail makes a couple of twists and turns, just touching the border of Bonlez before climbing back to the west in the direction of Longueville again. From Longueville there is a section with field roads bringing me towards Sart Risbart but turning to the south and dropping into Chaumont. Here I pass the official start of the ride, at the Sports Complex in the Rue Ronvau. From now on I come in lesser known areas and I enjoy a couple of nice sections along small singletracks between meadows and in hollow roads.
The ride turns towards Corroy-Le-Grand, the southernmost point of this track. Then it veers to the right in the direction of Louvain la Neuve. Through the Bois de Vieusart and next to a beautiful castle which sadly is hidden mostly by the green of the trees. Down towards Brocsous through a nice singletrack in a deep rift surrounded by houses, which you don't see fortunately. After a while the N243 is crossed and a steep climb brings me to the 2 chapelles high above Wavre. Long downhill into Dion Valmont. I am now back into Accro Bike country and after a while I pass Doiceau and then take the last climb of the Accro Bike race up towards Bercuit. Just a long drop into Grez now, a couple of backroads and I am back where I started out, 44K and 650 heightmeters have passed my wheels on this track. Not too bad but beware of doing this trail after heavy rains. It turns into quite a different beast.
From Grez I make my way back home over the plains east of Gottechain towards Hamme Mille, where I make an extra loop through the Domaine de Valduc. I had noticed black clouds gathering and indeed, 15 minutes after I arrive home a short thunderstorm breaks out.
I include the track from my ride today. Please note that it starts in Grez Doiceau, and passes the official start of the TT after about 22K.


Ride Stats : 71K and 805/870 heightmeters (Polar/Garmin) in 3h54mins

5815/61325
28-07-2010, 00:00 geschreven door Big Bad Wolf