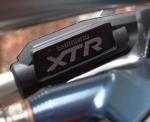 Ever since I rode this roadbook, in september last year, I have been wanting to come back to get a second chance at the many steep ascents I could not ride . Due to the Lyme disease which was already manifesting itself in my body, I did not get a fair chance to match my biking prowess against this wonderfully difficult roadbook.
So today was the day. I had asked Roger if he wanted to accompany me, and he agreed. We rode to the starting point in Huy and set off at 2pm for the 34K of the Ben-Ahin roadbook. I also wore my new shoes for the first time, so this would also be their testing ground.
For a detailed report on the roadbook I would like to refer you to my blog entry of 03-09-2010, where I explain the track in great detail. Now I just want to focus on some of the highlights of todays' ride. I made sure to get the difficult passage, where the track meets itself a couple of time, right. And still we managed to take a wrong direction for 100 meters or so after not riding the very steep uphill out of the forest into the fields which were to lead us towards la Sarte à Ben. But after that we could complete the first loop, leading us towards Andenne, without much trouble. Viewing the magnificent landscapes, and undergoing the technical downhills, singeltracks and very steep uphills we arrived back at La Sarte à Ben for the start of the second loop. Roger had been cursing his hardtail bike on the very difficult stony climb up the Bois de Mavelin. Whilst I was enjoying the gentle plushness of my Merlin full suspension bike.
Another fine loop with some very beautiful tracks, steep downhills and a very steep and rooty climb towards Solieres and we stopped to have a bite to eat and talk about bikes. Roger was thinking about selling the Sola and getting a full suspension bike again. He complained about the lack of traction and comfort on the roots and stones. When we arrived home I checked his tyres and found them to be pumped up rather firm. He says they are on 1.5 bar but I say he needs to check his pump. I'm sure they were well over 2 bars. Perhaps letting out a bit of air would soften the ride and considerable add to the traction of the rear wheel.
Closing the second loop we came to the last third of the roadbook, starting off with a very difficult and steep 21% slope on rocks and roots in the Bois Mélart. We both made it with flying colors and the singletrack next to the fields that followed had us both receiving a lot of nettle stings. With tingling legs we rode down into the valley of a dry river for the last and possibly toughest climb of the day. The singletrack next to and high above to the riverbed was superb. The steep climb after it was - steep. But we both made it. Sitting on the front of our saddles to keep the front wheel from lifting, the dry conditions provided grip so that we could keep the wheels turning and make the climb into the Bois Madame. My garmin says that the slope is 47% at its steepest but I think it is safer to say that it is between 30 and 40% at its steepest. Last time I measured it at 38% which will be about right.
Great, now a last stretch of offroad brought us to the top of the cote de Ben-Ahin where I wanted to try an alternative downhill instead of the impossibly steep drops from the Tour Joseph. This alternative is straightforward and even though it is steep - it is a 150 meter drop after all - it is completely ride-able and brings us nicely to the railway tunnel that takes us to the end of our ride. We are both very pleased with todays' ride. Small in kilometers but with a good amount of Ardennes' feeling and a lot of climbing and descending.



Ride Stats : 35K and 770/790 heightmeters (Polar/Garmin) in 2h33mins

2883/29775


11-05-2011, 21:12 geschreven door Big Bad Wolf