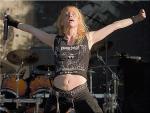 I went out with the Hilset today. The Tune Sixpack bracket bearings have been changed, as well as the crank puller bolts (titanium instead of alu now) and all seems to be running very smoothly . A lot of wind so I kept it short and only got in a hours' ride.
The weather was clement with an average temp of 10 degrees C and dry but windy conditions.
I'm close to getting myself a new GSM. I'm thinking about the
Sony Ericsson K850i
which incorporates a 5 megapixel Sony camera, up to 4GB of memory, an MP3 and radio as well as a cellular phone. 3 in 1 so to speak. I am still hesitant because of the rather steep pricing but if you see
the specs
it doesn't look too expensive.
The girl?
Angela Gossow
, someone with a tremendous voice.
Ride Stats
: 24K and 175 heightmeters in 1h01min
137/1520
10-01-2008, 17:47 geschreven door Big Bad Wolf