Tales from the Woods
06-05-2007

Accro Bike 52 and a damn nice shirt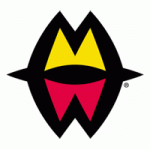 Because of the uncertainty of the Sart ride I had decided to do the 50K Accro loop today. I asked Moster Blond if she would like to join me and together we set off around noon in the Centre of Grez Doiceau. The weather was cloudy and quite cold compared to the weeks before so we were well covered with long sleeves, windbreakers and 3/4th pants. During my ride to the start I already did my good deed for the day when I helped out a biker who had a flat. He had a spare tyre and a pump, but his pump did not work. So I lend him mine , having first put his inner and his outer tyre back on. Quite to his amazement I didn't need any tools for this. I am quite good a changing tyres without tire irons - something I learned during my competition days - it just takes a firm grip. This little intermezzo meant that I was only just in time at the rendez vous point.
The Accro Bike loop is a ride I have been doing for some time now, both the 42K version - which used to be a chrono loop - and the slightly longer 52K version. MB had already done the 42K version when I guided her and other BigM members a few years ago. But today we would go for the bigger loop. This has a few extra climbs and descents and a longish tarmac section linking it to the 42K trails.

The Accro ride is a collection of small trails, steep uphills and sandy and/or rocky downhills through the rural and green landscapes around Grez-Doiceau, Chaumont Gistoux and Dion . Every now and then a little tarmac section allows some recuperation. The 52K version has some 800 heightmeters in it, not bad for Brabant Walloon I would say.
The trails were amazingly dry - except for a section where a spring creates a little stream following the trail for a few hundred meters. I thoroughly enjoyed the good conditions. At one point I had to do a little trail-exploring because a downhill section had been closed recently for all traffic. Luckily the first trail we tried was the good one. Some awesome gullies in it - which made MB scream - but I got the feeling during the ride that she became a lot stronger uphill and more confident in the downhills. Way to go MB.. !
I just
have
to say something about that nice Gary Fisher - Subaru team shirt MB wore today. She only uncovered it for the last 30 minutes of the ride, - having worn a windbreaker over it until then - but damn, that shirt looked good on you girl
!
Ride Stats
: 81K and 1075 heightmeters in 5h04mins
Ride Profile (CLICK)
4028/33750
06-05-2007, 00:00 geschreven door Big Bad Wolf
05-05-2007

Do the Ludo

Wanted to do an easy long ride today so I chose to do the Ludo Dierckxsens, a loop that goes into Brabant Walloon, gently ondulating and taking some smaller roads . Lovely with the sun out but with a fierce wind blowing from the north. Had a great relaxing ride, except for the bits on the plains with the wind in my face. I had ample time to clear some of the cobwebs inside my head and think about some matters, as the one described below.
Ride Stats
: 76K and 535 heightmeters in 3h15min
3946/32675
05-05-2007, 00:00 geschreven door Big Bad Wolf
04-05-2007

Easy does it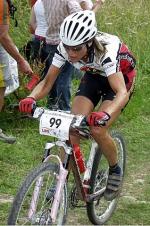 Just a little recuperation ride today. First time in the 2007 club outfit I went and picked up yesterday. Legs weren't feeling great but I still managed to get a good average, so they must have been good after all. Got word from my wheelbuilder that the damage to the Moots wheel is limited to the nipples. So no need for a new rim not new spokes. Only the brass nipples need to be changed, all of them, because they were stressed and could fail later on.
Plans for tomorrow are unsure, depending on a third party, but sunday will see me at the start of the Sart-les-Spa organised ride.

Who's the girl? Click on her picture and find out
Ride Stats
: 30K and 205 heightmeters in 1h11mins
3870/32140
04-05-2007, 20:25 geschreven door Big Bad Wolf
03-05-2007

Meerdael Singletrack Heaven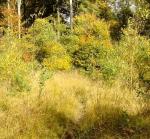 Damn, had the finest ride today. I decided to do the first part of my Secret Meerdael loop. This consists mainly of narrow trails and singletracks, only occasionally taking bigger tracks and just a few hundred metres of cobbles and tarmac. The trail conditions were absolutely perfect and the twisty trail had my spirits high. So high in fact that after 20K into the ride, when the hilly bit is about to begin, I decided to turn my bike around and ride the trail again, in the opposite direction back to the start. The dry conditions really make these trails stand out now.
I was curious about my rear wheel, a Mavic Crossmax SL , which had been making 'funny noises' during the Nandrin ride. Noises I recognized from my first SL wheel, when the inner freehub body axle was worn and I had to replace it, which meant replacing the whole wheel. I only have this new wheel for 14 months, and didn't use it during the winter, so I was prepared to be very bad tempered toward Mavic. But I tightened the tension on the bearings somewhat and they didn't give a peep during this ride. Still, if the wheel does fail, I will not replace it by another Mavic wheel but opt for a Shimano XTR wheel instead. I have an XTR wheelset that has been rolling since 1992 and is still going strong. Mavic Crossmaxxes are essentially roadwheels that have been adapted for offroad use, making them light but the design is bad and the inner freehub body axle wears out , causing play on the freewheel hub that cannot be fixed.
The only option is to replace the whole wheel since Mavic policy is against selling only the hub.
Oh well, enough of that, I want to end on a positive note, I thoroughly enjoyed my home trails today and the wheel was fine. Lets hope it stays that way for some time.
Ride Stats

: 40K and 420 heightmeters in 2h09mins
3840/31935
03-05-2007, 19:26 geschreven door Big Bad Wolf
01-05-2007

Nandrin trails special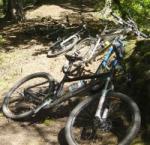 I had promised a dear friend of mine to take her around my beloved Nandrin trails. We also invited some other acquantances and we were 6 to take the start from the little narrow church at Scry.
I changed the starting venue because there a was a car-happening at the normal starting point, the Place Botty at Nandrin.
I have to admit I was feeling nervous because- even though

I

like these trails very much and have been riding them for 10 years now - I was really curious as to if and how they would please my friend. I have guided many groups here and always got good reviews from the participants, but this was a special ride for me as I value her opinion very much.
The first few K - which were actually the last few K of the normal ride - provided a nice warmup and brought us gently to the Place Botty where parking space was indeed rather limited. We spent some time checking out the route map displayed there and then got started on the White Loop. At first this climbs together with the Red loop along a trail that changes from tarmac into gravel and then into a forest track that is normally very muddy but now looks great and feels cobbly due to the many tracks of biker, horse and man that remained when the mud dried out . The White Loop has a few very nice sections in it, and thats why I keep including it. The landscapes we were riding through were beautiful, very colorful with the yellow rapeseed contrasting the deep blue sky and the lush green of the forest. One rollercoaster downhill followed by a steep uphill set us in the right frame of mind for this kind of terrain. Its very dry now so there are no extra mudtraps to look out for, but even so it cannot be taken for granted . The trails at times look deceptively easy but can change very quickly, especially in the downhill sections. One time you are coasting over a nice clear forest trail, avoiding some branch when suddenly gullies appear or rocky patches and stones knock your bike around and make things technical . "Keep on your toes" thats the message here.
The high Condroz isn't the Ardennes yet, but at times it comes very close at times . The trails already have a rocky aspect and even though the hills are more gentle, the ondulations are plenty and every metre uphill saps at your strength.
The sun was shining full force and a dry wind was blowing from the east, clearing out the skies to the nicest blue I've seen in a while. After some 22K, the White trail brought us nicely upon the Red, and here the terrain started to change. Less open landscapes, the valleys were more deeply cut and the trails become even more treacherous but remain very beautiful and changing all the time ; ranging from a narrow singletrack alongside a little river, a wider forest trail leading us next to some rocks and then bumping over a rocky trail with some wet patches in it , a tarmac section taking us further down into the valley ,a sharp right turn onto a forest track again, over a bridge and next to a fence and we start with the longest climb of the day. One kilometer upwards over a steep and rocky track. Each is set into his own pace and even in these dry condtions our wheels are skipping over loose stones and we have to wrestle our bikes over little gullies, some roots and even more stones. I so love this climb. At the top we have our 3rd rest stop to allow everyone to stock up on food and drink. A narrow singletrack leads us back down to the top of the rocks we saw earlier. We are now some 42K into the route and fatigue is beginning to seep into our muscles. But we're not home yet. A couple of nice descents along narrow trails followed by steep ascents on a grassy and gully singletrack between two fenced fields . One down, one more to go. We arrive at Villers le Temple and only one long climb through a little forest is left. A few backroads though Scry and we're back at the church. I got the impression everyone was happy with the ride, and I believe the pace we made was enjoyable for everyone. We had some drinks and a snack at Huy before saying our goodbyes.
I had a great time - as I always have on these trails - and I can only hope that my friends enjoyed it too. I am already playing with the idea of returning here soon and do the trails in the reverse direction.
Ride Stats

: 49k and 805 heightmeters in 3h16mins
3800/31515
some pics CLICK (password protected)
01-05-2007, 00:00 geschreven door Big Bad Wolf
30-04-2007

Scary stuff (non biking)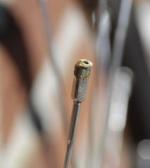 Wanted to prepare my # 1 bike for the ride tomorrow when upon turning the wheel I noticed a clicking sound. Mmm? Clicking? Lets look - whats up.. And then I saw it , one loose spoke , torn at the inside of the nipple. WTF ?!? .. damn, there is another one and a third one.. "poinggg" a 4th spoke disconnects when I take the tension out of the tyre.
HOW IS THIS POSSIBLE?
My mind started reeling back to the last ride I did with the Moots, exactly 2 weeks ago in Nandrin. I remember hitting "something" quite distinctly with my front wheel. At the moment I thought it was a rock thrown up by my wheel, or a stick. Still, nothing more happened then and I completed the ride, another 35K at least of tough terrain
Back home I cleaned the bike and noticed that the Mavic quick release had been pushed against the side flange of my front Chris King hub (rubbing off the black color as well ). But there was nothing wrong with the wheel at that point . The bike has been sitting in the garage since.


Crazy , isn't it. I have already contacted my friend Luc , who made these wheels, and he came by to check out the damage. I wonder what caused it, it must have been the bump initiating some tension through the spokes into the nipples. I know these Sapim CX Ray spokes are tensioned very tight but still, the nipples can take this and the spokes are among the strongest around.
They have not suffered, its the messing nipples that broke. I don't trust any of the remaining nipples so they will all have to be replaced, and possibly also the rim, but that has to be assessed by Luc .
I think the torn quick release must be a result from the same jolt that caused the messing nipples to snap.


I also think it's weird (and to be quite honest, I'm quite thankful to whatever angel is watching over me ) that this failure happened at home and

not

during the ride. I don't think I need to draw a picture to illustrate what happens if 4 spokes on the same side of a wheel fail . The wheel instantly gets twisted , locks solid and you go off - hard.
I believe I have to thank Luc for being able to ride another 35K offroad with these wheels without failure.. His wheelbuilding skills probably saved me from a nasty fall.

See some pictures HERE and HERE.
30-04-2007, 19:51 geschreven door Big Bad Wolf
Gastenboek./.Guestbook
Druk op onderstaande knop om een berichtje achter te laten in mijn Gastenboek. / Press the button below to write in my Guestbook.
Email Me
Press the button to send me a mail