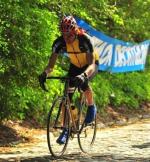 Had a good resting day yesterday. Was abhorred to see the carnage in the Tour de France. Belgians' podium hope Jurgen VDB out with broken ribs and shoulder blade, his aide Frederik Willems broke his collarbone in the same crash and old warrior Vino was taken to hospital with what looked like a broken pelvis and/or broken femur. Also Dave Zabriskie was hurt in the same downhill crash with a broken wrist.
A little later we witnessed an attack on two riders by a car from France 2. Flecha was hit by the car and smacked on the tarmac, but Johnny Hoogerland was worse off. He was thrown - bike and all - into a barbed wire fence. Severely cut and shamed he crawled back up and was able to arrive at the finish. What a Tour.
Today the rider had a resting day - much needed by most of them - so I could ride out for a nice long ride. I set forth towards Bierbeek, Opvelp and La Bruyere to arrive at the N91 . I followed this big road to Eghezee, a nice straight stretch of good tarmac. The road nicely undulates so in good form it is possible to stay on the big ring and have a good workout. With 38K under my belt I arrived in Eghezee. Here I turned onto the Ravel 2 and followed that until it ended in Saint Servais, near Namur.
One of these days I should try to find out how to connect to the southern part of the Ravel 2 , but this involves riding through Namur and I am not really looking forward to that. So for now I ate a snack and turned my Vortex around. A long 7K climb out of Namur brought me back to Cognelee. From now on it was downhill until I reached Eghezee again. Here I set forth on the N91 again for the long ride back to Hamme Mille. From Hamme Mille I looped back to Blanden over Nethen, Sint Joris Weert, the Zoete Waters and Vaalbeek. I had a great workout and even though the sun was out most of the time it wasn't too hot. There was a slight breeze which was nice without being bothersome. I attach the GPS map for those who want to try out this ride. The N91 is a very nice road to follow. Broad enough so the traffic doesn't really bother the cyclists. And the tarmac runs nicely under the wheels.



Ride Stats : 110.5K and 635/635 heightmeters (Polar/Garmin) in 3h52mins

5880/55805
11-07-2011, 16:06 geschreven door Big Bad Wolf