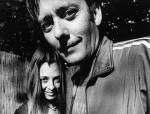 Today I stopped a bit earlier at work - well, I took half a day off really - to be able to do a longer ride in the afternoon, without any lights. The weather was very windy and the backroads were covered with mud and grime and some light rain didn't help things. My bike got dirty . But with an average temperature of 8 degrees C at least the wind didn't feel cold. The narrow roads I prefer following were quite a challenge, the dirt making them slippery and the only time they were dry was at the parts that were exposed to the fierce wind. Needless to say, half of the time I got a good workout, the other half I could relax a bit with the wind in my back or blowing from the sides. But I loved every minute of it!
Ride Stats
: 51K and 415 heightmeters in 2h18mins
9940/88505
I want to dedicate this little ride to the memory of
Frederic Chichin
, guitar player of the French rock formation
Les Rita Mitsouko
. He died november 28th after a short but fatal disease. I have always liked their music, and I also am quite fond of the singer, Catherine Ringer, for her looks as well as for her way of life (just check out
her Wikipedia file
and you will understand what I mean. This lady has balls !
Adieu Frederic and "bonne courage" Catherine!!
30-11-2007, 16:33 geschreven door Big Bad Wolf