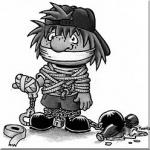 ..to you oh Earth and Sea, for the devil sends the beast with wrath. Because he knows the time is short. Let him who hath understanding reckon the Number of the beast, for it is a human number.. it's number is sixhundredandsixtysix.. [fade voice - enter double electric guitars and picture me headbanging on the devilish rhyhtmn]
Yeah, Iron Maiden and the Book of Revelations.. who would have thaught.
Didn't feel too good today. My nose was running, my head throbbing (the one on top of my neck I mean) and my stomach was giving me nauseous feelings. I hope this is due to the flu injection because I don't know if I can stand another week of sickness.
Yet I got on the rollers like a good boy and the MP3 player had me rocking and rolling on several of my favorite bands and songs. From "Comfortably Numb" over "Goddamn Devil" and "Might as well be on Mars" I rode on the soundwaves of Front 242s' "masterhit" and "Soul Manager" and Anastasias' "How come the world won't stop spinning".
A motley crue for sure but then I like a variety of styles and bands. It helped me get through the hours' ride pretty well. I just closed my eyes and let the music overwhelm me. Washing away my thoughts. The ride actually went very well. My lower back seems to be fine and I didn't suffer from my sinusses nor headache. I'm curious for the next few days though, they will be crucial .
Ride Stats

: 25k in 1h06mins
9720/87410
21-11-2007, 18:05 geschreven door Big Bad Wolf