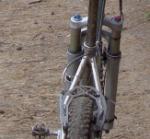 As expected the weather remained good during this second day of the weekend. So I went out again for an offroad ride. This time I planned to first ride to Gottechain to the point where the 45K loop - which I did yesterday - splits off from the longer distances of 55K and 65K. The forest was still cold when I followed the Naamsesteenweg to Hamme Mille and then made my way to Bossut and Gottechain, crossing the Lambais valley.
The plan was to do the extra 20K loop of the 65K . From Gottechain the trail leads me southwards to Cocrou and things start to get serious right away with a long difficult climb up into the Bois de Beausart. The roots on the track require extra attention and a certain belief in yourself and the bike to make it over them without stalling or stopping. Luckily the technical prowess is there and with the track being completely dry I can drive the bike over them without even a wheel spinning.
Down along a cobble track into Cocrou where another climb takes me all the way up to the Grand Sart farm . Down into Heze and then back up for a long climb, starting over wet cobbles and ending in the fields where the Chapelle du Cheneau marks the end. From here I ride into Longueville and then down an exciting downhill into the Bois de Bonlez. The track is wet here from a little rivulet that follow and crosses it. But I manage to keep my bike as good as dry by carefully choosing where I place my wheels.
Down into Bonlez and then taking it easy on a very long climb - again - taking me up to the Bois de Glabais. From here its down into Heze again. Then along a sandy track towards Morsaint where a very steep climb along a nice singletrail awaits me. I'm in Biez now and riding past the church I enter another singletrack leading down towards Grez-Doiceau. It is wet here, the trails lies in the shade, so care has to be taken. A beautiful view of Grez makes me stop to take a picture.
Leaving Grez to my left I quickly regain the last climb, back into Gottechain. A difficult trail, very steep and rutty. But I make it. I am back where I started exactly 20K earlier. This was the far loop of the 65K Bierbeek ride. If you want to ride it, be there next sunday.
Having completed my reconnaisance task I decide to ride over to Tourinnes-la-Grosse and pass through the Valduc estate . Past Gottechain I make my way into Nodebais and then upwards following the field tracks to get a good view of Tourinnes' big church. Taking a picture while it is basking in the sun. The sun was really out today and the average temperature throughout this ride was 12 degrees, which is 4 degrees more than during yesterdays' ride.
From Tourinnes I ride to Valduc and then into Meerdael Forest for a last stretch in the now warmed up forest. The sun on my back felt great whilst cruising home.

Endomondo track


Ride Stats : 46K and 610/670 heightmeters (Polar/Garmin) in 2h36mins

11027/93420
23-10-2011, 17:34 geschreven door Big Bad Wolf