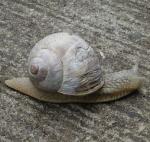 I wanted to do one long slow ride this weekend. First I was thinking about doing the Ludo Dierckxsens Classic - or at least the hilly part of it - but then Moster Blond, who is back form a fabulous biking trip to Spain, contacted me to check whether I wanted to ride in the Dyleland area. Yes, of course I would.
So we set up to meet at the Zoete Waters but due to a last minute bug on her bike we met at Filip Sport in Hoeilaart instead. I had to get a minor thing on my bike fixed as well so we both took advantage of the little pit stop.
Upon riding towards Hoeilaart I came along this little snail, that was leaving its wet trail whilst slowly crossing the tarmac bikepath. I took some pictures before gently lifting it off the dangerous road and putting it among the green grass at the side of the road.


It was arranged that we would ride the Overijse BLOSO's . These are not too difficult but on the other hand do offer some minor technical challenges. MB was talking about her trip and I was talking about things back home, it felt good to open the chatterbox with her. The trails were great, here and there last nights' rain had left them a bit slippery but that only added to the fun. We said our goodbyes upon reaching Overijse again and I rode off towards Huldenberg, where I took the time to photograph a particularly gnarly looking tree.


Further I went towards Terlanen and St Agatha Rode , where I made the fiendishly steep climb in the St Agatha Rodebos. Another climb in Pécrot and then descending towards Nethen and the Meerdaelwoud. I had a little drink at the Hertebron, a spring in the forest which is supposedly clean after a bit of coli infection 2 years ago. Well, let's hope so anyways. I was thirsty and the cool water refreshed me.


Another few K's into the Meerdaelwoud brought me back home. The weather had been clouded but dry. The humidity was quite high although the outside temperature oscillated around the 20 degrees C mark. Amazingly it started raining about an hour after I got home.
Big Thanks to whatever angel is watching over me for keeping our ride a dry one.
Although the average speed was not high throughout the entire ride , I thoroughly enjoyed being out there and the fine company of MB and the chat we had helped me to see some things that had been bothering me in brighter light . I consider myself very lucky to have a friend like her.
Ride Stats : 83.5K and 895 heightmeters in 4h42mins.
4693/39090
26-05-2007, 22:49 geschreven door Big Bad Wolf