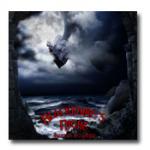 Didn't want to ride today but settled for an hour on the rollers to finish reading
2010 Odyssey 2 by Arthur C.Clarke
(for the umpteenth time) and get a chance to listen to the new
Blackmore's Night
album - Secret Voyage. This is another great marriage between Ritchie Blackmore's sublime guitar skills and
Candice Nights
' elfin voice. I just love their work. I already knew Richie from Deep Purple and Rainbow but it looks like he added another dimension to his music when he met Candice. Seems they tied the marital knot not long ago as well.. so the lyrics of "
Locked Within The Crystal Ball"

surely get an extra dimension.
Here In the Spotlight, This Moment Is Ours..
No One Can Stop Us, We're One With The Stars
Well, if they continue to produce such marvelous music, I won't stop them. If you have the chance , check out their music. Even the hardiest Deep Purple fan might enjoy Richie's current work.
As for me, I completed my book and had a relaxing ride.
Ride Stats

: 26K in 1h05mins
9126/88995
17-11-2008, 20:09 geschreven door Big Bad Wolf