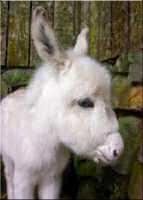 Weather was awesome today. The skies were very blue and the temperature was around 10 degrees when I set off for a road ride along the 'Ludo Dierckxsens' trail. This is marked with yellow 'LD' signs and it takes me in 60K from Bierbeek to Bertem looping along small and secondary roads into Brabant Walloon. A very nice alternative to the 'Haasrode' tour, another venture into Brabant Walloon and it's hilly landscapes. I stopped once to say 'hi' to a mother/son combination of donkeys. The little one was all new and fluffy haired, very nice and soft to the touch. I kinda like donkeys.
The sky being so blue is a good sign ; it usually means that the air is pure, free from dust and smog. A gentle wind was blowing from the North but the sun is beginning to gain strenght again and overall it felt crisp but gentle outside.
For tomorrow I'm not yet sure what to do. I had still some pain in the saddle region and taking into account that the offroads are still very wet I am unsure to go to Aywaille, where there is an interesting organized ride, taking in the marvelously difficult Ninglinspo area. Normally I wouldn't even consider going there this time of year but with the clement temperatures I am pondering about it.
Another alternative is that I do another recon of my Secret Meerdael Loop, checking if the fallen trees have been removed. In a few weeks I will guide some bikers along that trail and I want to make sure the trail is do-able.
Decision will fall tomorrow morning.. so watch this space.
Ride Stats

: 78K and 555 heightmeters in 3h19mins
1086/7775
03-02-2007, 16:17 geschreven door Big Bad Wolf