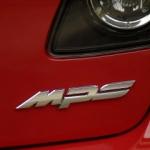 At last, after 5 months of waiting, and one holiday while it was already in the garage, I took possession of my new car yesterday. It was well worth the wait, I really enjoy driving it. It's a very powerful car so I have to watch it but I like the way it purrs along while cruising in sixth gear and 90kph at 2000rpm. I took some pictures from it which you may view
HERE
.
I went for a bike ride as well this evening, after taking a few days off of the bike due to a insect bite I suffered on the last ride of the Vosges. It was on top of my knee and the resulting swelling took a few days to settle. At least I got most of the poison sucked out so the allergic reaction was minor.
My friend Roger had read my Vosges report and wanted to know more about the biking over there, as this is one of the options he is contemplating for a future shortbike trip. So I went for a ride with him talking about the Vosges and lots of other stuff. As was expected, my legs felt good , well rested and strong after the Vosges trip. On the uphills it felt as though I could push one gear heavier than I usually did.
I am still contemplating on which ride to do next weekend, lots of great rides so a lot of choice. We'll see how the weather behaves, that will be a major factor in the decision process.
Ride Stats

: 48K and 390 heightmeters in 2h08mins
5110/47135
12-06-2007, 22:16 geschreven door Big Bad Wolf