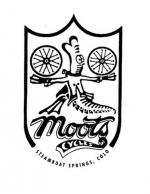 Last sunday saw the passing of the Pietrebais organised ride. A ride that I have done a couple of times in the past but that I could not attend this year. Thanks to Roger L. I received the GPS track and when I told him I wanted to ride the 54K trail today he was eager to come along.
When we started around 1.30pm there was some light drizzle falling but pretty soon the rain ceased and we even were greeted by the sun from time to time making our ride even more pleasant. My average temperature was 18 degrees C so you might say weather conditions were excellent.
We picked in on the trail high in Gottechain and from the start we were plunged in a succession of climbs and descents. Trail conditions were excellent, dry and fast, almost no fallen leaves thanks to the little Indian Summer we had last week and there was only one place were we got our wheels wet on the entire 54K.
I know this region very well and I must say ; kudos to the trail builder. It is quite obvious he likes climbing and the section between Bonlez and Longueville offers one of the best connection of trails I have ever ridden here. If I had the legs I would have done it another time. But we agreed that we better ride the rest of the trail, it would be more than enough. Offering close to 900 heightmeters on the 54K, not an easy stroll indeed.
About halfway into our ride we took a break at the Chapelle du Cheneau near Longueville to eat and drink a bit. It was necessary. The climbs were mostly short but very steep and I thanked the gods for the good traction. If you decide to come and ride here, preferably do so after a week without rain because mud will make these trails very very difficult physically.
From Longueville the tobogan rolled on through Heze and then to the finish in Pietrebais. Some of the trail markings were still there and the GPS track and Rogers' memory did the rest. Taking another break in Pietrebais I noticed the big slab of stone that gave its name to the rivulet and the town.
Moving on the track lead us to Cocrou and then into the Bois de Beausart for the next climbs. Gottechain was looming over the horizon but the trail veered to the left for another downhill and another climb. Last sunday there was also a chrono over this track and Roger told me the first rider finished the 54K in 2h09mins. Quite an accomplishement given the fact that our Olympic qualifier Kevin Van Hoovels was 6th with a time of 2h22. Anyway, hats off to those guys. It must be something riding here with speeds around 30kph and a lot more in the - sometimes very tricky and dangerous - downhills. The landscapes here are very beautiful, while riding from one valley into the other.
From Gottechain we rode homewards through Hamme Mille and finished off a very pleasant, enjoyable and heavy ride though amazingly beautiful landscapes. Good thing we could enjoy those while our legs were screaming for mercy. But that is what we like, to suffer and to enjoy the suffering.

Endomondo track


Ride Stats : 76.5K and 1035/1110 heightmeters (Polar/Garmin) in 4h18mins

10800/90910
04-10-2011, 19:49 geschreven door Big Bad Wolf