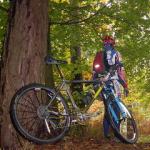 Mist and clouds were covering the earth when I disappeared under the thick foliage of the Meerdael Forest. The tracks were wet and slippery but I was in no hurry, just enjoying the ride and taking in the landscape.
Today the sun would not appear at all which left the trails moist but not muddy.
My Schwalbe Nobby Nics in 1.8 format offered more than enough grip, only having trouble with the wet roots under the fallen leaves. But I managed to keep the rubber side up.
The forest was very quiet but there were plenty of people walking, running or on horseback. When I zoomed from one singletrack onto another I spotted them on the bigger roads. Every now and then I stopped to take some photographs.
Meanwhile my Merlin Works 4.0 frame has been delivered to Filip Sport and now we are only waiting for the delivery of the Thomson seatpost to start the buildup.
Ride Stats

: 30K and 305 heightmeters in 1h53mins
9003.5/83705
11-10-2007, 17:43 geschreven door Big Bad Wolf