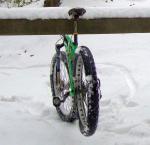 Lots of snow these last couple of days, I'm guessing between 15 and 20 cms. Today the temperature went above zero which was a pity because the big snow pack was starting to get all squischy and melting. I decided on a Meerdael Forest ride and took the Sandman Atacama which Koen had been friendly enough to lend me for a couple of weeks.
The snow was deep and beneath the snow a layer of mud wasn't making things very easy for the big-tired bike. The grip had been way better last saturday when it was still freezing. But I went and rode a loop into the forest, trying to take advantage of the jeep tracks when the trails were flat and keeping into the deep snow during ascents and descents. This kept the big tyres from sliding away. The tyres lack the necessary grip for muddy conditions and the deep snow was still offering good traction and grip.
Incorporating a couple of climbs, according to my GPS up to 24 % , the big tyres were also finding their limits. But when I was looking at the size and shap of the other bike tracks, I wasn't the only one having trouble with the slippery conditions. The big brakes make it very easy to control the bike and keeping the weight way back in the descents also helped to prevent the front wheel from getting too heavy. Pausing every now and then to take a picture of bike and ladnscape I was looping towards the edge of the forest in Nethen before turning towards the Kluis and the Paddenpoel.
Returning through the Denteneerpad I crossed the Weertse Dreef - which was still closed to cars - and finalized my ride . The Brooks saddle was not to my liking, I have to change that for the next ride. The rest of the bike is OK, I would prefer a narrower handlebar and I need to get the seating position a little further towards the back of the bike. All things that can be remedied for the next ride.

Ride Stats : 16K and 235/295 heightmeters (Polar/Garmin) in 1h32mins

8939/98745
21-12-2010, 17:49 geschreven door Big Bad Wolf