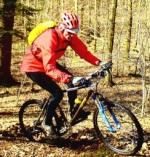 One of my goals each year is to get a 100.000 heightmeters. Sometimes I succeed, sometimes not. When I saw that I was approaching the 50000 mark and also the end of June - thus mid-year - I decided to go for it and get me some heightmeters today. The weather was great, 15 degrees and a slight drizzle. This is great weather for climbing and it also keeps all the nasty bugs out of the air. I developed some hives overnight - possibly due to the antibiotics - and instead of going crazy with the itch I took an antihistamine pill and got on my bike. It could also be an allergic reaction to some pecan nuts I ate yesterday, I believe someone told me to watch out with pecans . Anyway, they are there, tiny red blotches covering most of my body, itching when I think about them.
On yer bike. The rain was my ally against the insects and once in the forest I hardly noticed it. As I said, it was a light drizzle and the trails were hardly wet, except in the open spaces between trees. I have a nice little hilltraining track in Meerdael near Nethen , about 2.6K long and just shy of 80 heightmeters. It starts at the bottom of the valley behind 'De Kluis', goes up the steep hill on the left, then cuts to the right, straight into a technical descent with lots of roots - which were wet today - and some drops. All the way down to camping 'La Hetraie', to the right in the sandy road and then left through the camping towards the big road from Sint Joris Weert to Nethen. Follow that road to the left - and take your time to recuperate - until on your left you take the small singletrack ascent that starts between two driveways. People who know Nethen will know the spot. Very steep climb in the beginning with some roots you have to roll over just right or you end up walking . After that it is mellowing out a bit but is still steep enough to make you work hard. At the top just go straight down the gravel road, sharp right turn at the bottom and I start again for my next lap.
I did this lap 10 times. People who bore easily might probably be rolling their eyeballs right about now but I can assure them, this track is never boring to me. If I had the legs I would have done it 20 times. Each lap I am looking to find the perfect line, braking at just the right spot, avoid the snails, try going a little faster downhill , brake a few centimeters later and deal with front wheel slippage when you are getting tired and less concentrated. The track being moist made it a great challenge, as well during the uphill as going downhill. I thoroughly enjoyed it. At the end of those 10 laps I had 26K and 781 heightmeters. Thats a Hill Factor of 30 thank you very much.
With this little ride there remain only 170 heightmeters to go to make it an even 50000 this month. With one day left that should be feasable.
Ride Stats

: 37K and 860 heightmeters in 2h45mins
5376/49830
29-06-2007, 20:06 geschreven door Big Bad Wolf