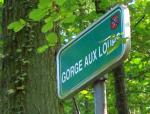 Time to really test my legs after a couple of weeks of building up the workload. SO today I set off for a strenuous ride on one of my favorite trails. The Accro Bike , starting in Grez Doiceau , the Accro Bike is a track I have been riding so many times I can ride it with my eyes closed. The 56K version has around 800 heightmeters and consists of a big loop clockwise through Biez, Cocrou, Pietrebais, Longueville, Chaumont, Bonlez, Dion Valmont, Wavre and Doiceau. To this basic loop I have added a couple of extra loops, mostly descents and climbs, to spice things up. As it stands now, the track you see below will have close to 900 heightmeters, whilst losing a kilometre of distance.
Riding from Miradal to Grez, I have ample time to warm up and I take a picture when I cross the river Train in Archennes. From there it is only a couple of kilometers to Grez, where the track starts at the Grand Place near the Church.
The weather is fine, around 20 degrees C and a little breeze from the southeast. On the Merlin again today so the challenges that the track throws at me are easily digested by the bike. At Biez, to reach the church, I cut a corner whilst taking a small track along the field instead of going the long way around on cobbles. This already saves me 500 meters and it yields a technical climb towards the church. I pause here and enjoy the beautiful horizon from this viewpoint. A picture is taken and I move on.
In Cocrou I cut another corner, not going to the bottom of the descent , instead cutting to the right after the long sandy descent and starting immediately on a climb into the forest. In Pietrebais I have added an extra climb and the descent along a small singletrack is a tricky one. Gullies covered under grass. A nightmare for most bikers. You don't see the edges of the gully and when your wheel touches those edges you need all your skill to keep the bike moving. Love it !
In the Bois de Glabais I make sure I take in every climb there is, dropping down into the Gorge des Loups, climbing back out of it, down into another valley, and taking a special track with a very steep ascent to avoid the sandy road most bikers take. Upon completing that climb, there is a small tarmac road taking me towards Pietrebais. Here you can relax a bit . There is much more to come.
Another succession of climbs and descents in and around Chaumont as the trail moves towards Inchebroux for one of the longest climbs. I begin to feel my legs but my heartrate us still fine. Having a bite to eat at the end of the climb before descending towards Bonlez. Here I can throw away my powerbar wrapper into the bin next to the church. There is a loud noise of playing children as I pass the church. It must be around their noon break. I continue towards Dion Valmont and have to walk a couple of times during the descent in the Bois des Gottes. Some trees have fallen and they don't bother clearing up the trails around here. Pity because that descent is a nice and tecnhical one I love to -try - to ride. In and through Dion valmont for a long and steady ascent towards the 2 Chapels in Wavre. I undercross the N25 and find myself walking again on the steep uphill that brings me back towards the N25.
Moving towards Doiceau now with another ascent back towards the N25, followed by a singletrack parallel to that highway and a long fast descent that ultimately brings me to the Avenue Comte Gérard d'Ursel. Having crossed that, a little track between houses brings me to a trail that has me climbing again towards the Golf de Bercuit. One downhill to go and another climb, a very steep one, brings me back into Grez-Doiceau. A last downhill - mind the gullies ! - and I'm back where I started. It took me nearly 4 hours to round the 55K course. When I look at the heightmeters on my Garmin I see that I already am past the 1000m mark. It feels like that in my legs as well.
The bike has saved me from a lot of hardship, the rear suspension - provided by Elssworth for Merlin - works like a charm and the added comfort keeps the body happy and the heartrates relatively low.
I ride home over Gottechain where I wrestle myself up a very steep singletrack . Over Hamme Mille and into the Valduc grounds I reach the forestry and make my way home through the Groendreef and the Eleanordreef. A mighty fine ride but I am nevertheless pleased to be home. It has been quite a test for my body and fitness and it remains to be seen how well I will recuperate in the next couple of days.





Ride Stats : 81K and 1200/1245 heightmeters (Polar/Garmin) in 4h55mins

7400/78755
08-10-2010, 20:32 geschreven door Big Bad Wolf