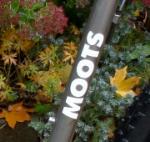 "1-79-78-90-91-37-68-67-85-86-87-73-75-76-1" , seems like the combination of a very important vault and indeed, in a way you might say that those numbers represent just that. The way in to the vault of treasures that is the region South of Leuven and then to the east towards the Brabant Plateau and into the region of Haspengouw.
I discovered this interchange route - that takes you from one node to another following arrowed signposts - in the latest edition of 'Grinta'. I chose to ride the 48.5K version. There is also a 70K version but I decided to go for the shorter one today because my legs have been doing a lot of kilometers already this week AND the forecast called for possible rain in the afternoon.
The rain didn't come but I had a fine ride along these numbered nodes. I picked in on the route where the Weertse Dreef crosses the Naamsesteenweg and the next kilometers take me through Mollendaalbos straight east. By the way, this route is absolutely not suited to ride with a road bike. A mountainbike - or citybike if you must - is your best option. Big forest roads and when I reached Mollendaal long sections of cobbles that take me to Opvelp. From there I follow the Hoeveroute alongside the river Velp towards Neervelp and Vertrijk. Crossing the Tiensesteenweg and I ride towards Lubbeek on small tarmac roads. Sometimes another section of cobbles or field road make me glad I chose to ride with a mountainbike today.
The sun is still out but there are some clouds beginning to show at the southern horizon. Hmm, I better move on.. From Lubbeek I ride towards Pellenberg and then down towards Lovenjoel where I cross the Tiensesteenweg again. The arrowing is quite good but here and there a couple of signs are missing. You can tell you are on the wrong road when you reach the next crossing and there still is no sign. Return and take another route and if you are lucky you are on the right route this time. I am told that you can also compose and download your interchange route as a gpx file from a website , this may be the preferred way to ride these interchange route, if you own a GPS.
But I did fine with the numbers I got out of the Grinta magazine attached to my stem. From Lovenjoel I pass Heverlee and Arenberg and then the route rides into the Heverleebos to connect to the Zoete Waters, where the start is at node number 1.
From here I ride towards Sint Joris Weert where the route enters Meerdael Forest along the Weertse Dreef. Big lungfulls of clean forest air are gulped in before I am back at the start of my adventure, with some 52K on my counters. Had a great ride and enjoyed riding the YBB again.

Endomondo track


Ride Stats : 55K and 380/470 heightmeters (Polar/Garmin) in 2h21mins

9856/81915
16-09-2011, 20:22 geschreven door Big Bad Wolf