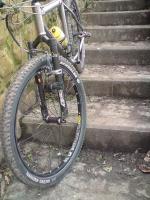 Today I was on a bit of a mission. A collegue at work had had an accident during an organised ride last Sunday. He fell on some stairs near Biez, close to Grez Doiceau . I happen to know those particular stairs very well. Even though some ride them, even jump them , I always hesitated to do so myself. Each time when I have a look at them from below I tell myself, "no big deal" , but when I'm up there and see the drop I get off my bike and just walk them. It's silly how sometimes you just block over an easy obstacle and ride over things that are a lot more dangerous .
So I rode out to take some pictures of the 'stairs from hell', mainly because I wanted to share them with the collegues at work, who were wondering what had happened. I have to say at this point that my collegue tried to ride down the stairs, apparantly hit the wall and then the side and went off, breaking his wrist when he tried to dampen his fall.
Anyway, the rest of my ride went well, the weather was clement with sun and about 12 degrees C. It is very hilly in the neighborhood of Biez and that showed on the amount of heightmeters I had during this ride. My lower back was fine today and the legs were strong, the way they have been for the last few days. Tomorrow rain is forecast so I will probably stay indoors unless it dries out in the course of the day . But we'll have to wait what gives.
Ride Stats

: 50K and 450 heightmeters in 2h17mins
1508/13330
08-03-2008, 14:44 geschreven door Big Bad Wolf