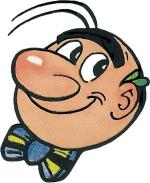 The weather had taken a turn for the worse overnight and when I rode out around 11am it was 13 degrees C and there was a cold wind blowing from the north. I wanted to ride towards the Sonian Forest today, and there do the local Bloso loop, affectionately called the Nero route. Nero, by the way, is a comic book hero in Belgium.
When I rode towards Duisburg, I could see the sun from time to time but there were also dark clouds gathering here and there. I wore a long sleeved jersey and was glad I did. In this first part though , I had the wind more or less in my back so that was an advantage.
When I arrived in the forest I noriced some droplets of rain but the thick foliage kept me as good as dry. The dropping barometric pressure added a couple of free heightmeters to my Garmin as I rode through Jezus-Eik and picked up on the Nero route just in front of the - infamous - railroad singletrack. There were - again - workings going on at the start of the track but the track itself was restored and felt quite good. Some little technical sections and then at the end they had added a couple of whoop-de-doos and berms. Nice section here.
The rest of the Nero trail was its usual self, fast forest lanes and 3 sections of interesting singletracks. When I neared the last one, alongside the Avenue Dubois, it had started to rain again and this, along with the darkness, made the singletrack a bit more difficult to ride. I was already thinking the way back would be a wet one when the rain subsided and when I came back to the railroad where I started, I had a bite to eat and waited for the clouds to disappear.
To my surprise, and this really was a stroke of luck, the north-easterly side of the Sonian Forest seemed to be almost dry. When I emerged in Duisburg and ventured into the fields leading me towards the Ganzepoel, I even saw the sun peeping through the clouds. Its warmth made me dry up fast and the wind seemed to have subsided as well. I rode towards the Margijsbos and the into Sint Joris Weert for some last stretches of forest and some nice tracks to finish off this ride.

Ride Stats : 76,5K and 770/1010 heightmeters (Polar/Garmin) in 3h58mins

4506/48415

19-06-2010, 16:35 geschreven door Big Bad Wolf