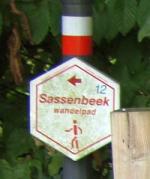 Today I took a day off of work to ride the O2 Bikers roadbook in Lubbeek. It had been a while since I used my Garmin Edge 705 GPS in its navigational mode with gpx tracks and today seemed like a good opportunity to try this again. In the beginning it tended to freeze up after an hour when used like this, so I switched over to following tracks in Course mode. This meant converting the gpx format to a tcx or crs format, an extra step and of course you could not take advantage of the GPS navigation when you are in the Training mode.
There are also disadvantages to using it in navigational mode though. Sure, you get a beep and directional indications of an upcoming turn. But after taking a turn the unit has to recalculate its position and this takes a couple of seconds. Obviously when there are lots of tracks or when you are on a fast downhill a "couple of seconds" could take you past your next turn. Of course it does suggest a U-turn to bring you back on the right track or, if you persist in the 'wrong' direction, it re-calculates and proposes another route back to the original track. That is a definite advantage of using it in the navigational mode.
I think I did miss a little section in the Hoog Linden area because at one point I could not make out the direction I needed to take. That is another disadvantage of the navigational mode. It tends to switch the map scale all of the time, and manually zooming in is not always possible. Remember I'm on a mountain bike and I need both my hands on the handlebar/brakes and I best keep my eyes on the track as well. Trying to figure out which direction I should take should only take a fraction of a second. Most of the time you are OK with the Edge. It beeps when a turn is upcoming and it displays the track and the direction you need to take. When you are really close to the turn it beeps again and counts down the meters/seconds to the turn. But sometimes it gets complicated .
I started at home today and picked up on the trail after Korbeek Lo. I had put the Edge in navigation mode when I left and it immediately picked up on the trail when I crossed it. The first couple of kilometers were very nice with some passages in a forest and a great and tricky downhill leading me towards Pellenberg. Before coming at the Pellenberg church there is a really steep and narrow climb, with steps and all, making it necessary to really grind down and give it all you got. I had noticed a lot of thorns on the tracks during a singletrack passage in some backwood and surely enough, not long after that I could feel my rear tyre loosing all pressure.
Damn, I retracted 2 thorns from my outer tyre and indeed found 2 pinpricks in the inner tyre. I only had two patches left so I used those and re-inflated the tyre. Sadly enough there seemed to be a third hole because the tyre wouldn't hold pressure. No more patches so I used one of my spare inner tubes.
This left me with only one spare inner tube and no means to patch a tyre. I needed to be extra careful. When I arrived in Lubbeek - where the route starts - I asked around but no-one could point me to a bike-shop. I continued and the track leads me towards a steep climb up to some Jesus statue. Calvarieberg, indeed it was quite a struggle to ride it. Nice singletrack after that zooming down again. The trail then meandered over small tarmac roads towards the Diestse Steenweg that I crossed to arrive at a very nice singletrack that consisted of trees put across the track. This is a very wet area and I imagine the wood is the only way to keep the track manage-able in wet conditions. A bit of suspension is welcome here and after a while I arrived at the end of the track. The track is on the Sassenbeek walking route and the area here is called Gempe. Some nice passages follow, a lot of singletracks in the fields and near Tielt Winge a great passage in a big forest.The track then turns towards the West to reach Sint Pieters Rode and Kortrijk Dutsel. I needed to be extra careful because it seemed that a lot of thornbushes had been pruned and sometimes there were branches left on the track. I did not need another flat! Arriving in Linden and looking for a small track that seemed to be dug over by some construction workers. I asked a local and he pointed me to another track that lead me where I needed to go. I particularly remember a very steep downhill, that ended with a tight turn to the right.. great! A nice section in Hoog Linden followed and soon enough I was back in Kessel Lo and crossing the Diestse Steenweg again. A last bit of singletrack taking me up the crest and I was back at the point where I had injected myself onto the route.
I continued to use the Garmin in its navigation mode and asked it to take me home. It needed to recalculate a lot because I was taking more than one turn it did not foresee, but it got me home allright. A good experience today and I might just switch back to using gpx tracks in the future.
A good workout as well and an interesting track. Of course the height differences are not what they are in the Ardennes or even in Brabant Walloon, but the O2 Bikers trail incorporates some nice singeltrails and some surprisingly steep uphills and downhills. The many sections on small trails in the fields are testimony to the fact that the guys really know this area very well. To be recommended , not to be underestimated though and take enough patches and spare inner tyres with you to survive the thorns. Oh, and a good pump of course.
Ride Stats : 64K and 705/810 heightmeters (Polar/Garmin) in 3h34mins
6902/68520
09-09-2009, 18:35 geschreven door Big Bad Wolf