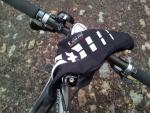 Bank holiday today so I had a day off from work. The front tyre of my Moots YBB suddenly decided to refuse to hold any more air, so that means I either put in an inner tyre or I take it to Filip Sport for a No Tubes refill. I decided to go for the latter option which meant I had to take out the BBW again for what was going to turn unto quite a solid mixed ride.
Starting out at an easy pace following the Haasrode Tour towards Bierbeek, Neervelp, Willebringen, Kumtich, Hoksem and Hoegaarden. When I passed the Goudberg Geosite I decided to ride towards the Ravel 2 and then following the cobbles past St Remy Geest until I reached Jodoigne.
From Jodoigne it wasn't very far from Dongelberg. I crossed the N91 , rode through Incourt and then took a left towards Opprebais. Here I followed a narrow tarmac road that is mainly used to water off the surrounding fields. I have been here before and then this road was a stream with 20cm of water flowing through it. Today, due to the drought that has been going on for almost a month, there was nothing but nice but rough tarmac under my wheels. I resisted the urge to ride into Maleves-Sainte-Marie-Wastinnes, turning to the right towards Chaumont Gistoux instead. The wind, cold and from the north, was blowing into my face now and it was a good thing I dressed for the occasion. Even though it was sunny it was rather cold. Stopping at the church for a bite to eat.
Riding onwards I quickly passed Gistoux and then made my way through the beautiful Train valley into Bonlez and onwards to Grez Doiceau. From Grez I crossed the N25 and climbed towards Bossut. Riding through La Malaise and a bit of offroad taking me to Rue de Pecrot and into Nethen. From here I closed my loop riding past Sint Joris Weert, the Zoete Waters and Vaalbeek. When I reached Blanden the nice weather made me decide to add another loop towards La Chasse and then past the Commonwealth Cemetery back towards Blanden. A nice solid ride at an easy pace.

Endomondo track


Ride Stats : 85K and 680 heightmeters (Garmin) in 3h47mins

2531/25535
06-04-2012, 15:54 geschreven door Big Bad Wolf