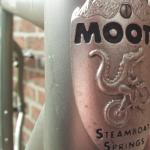 Yesterday saw the demise of a brave and joyful companion. Our cat Rambo finally lost the battle against diabetes and old age. He passed on at the age of 19. He was a great cat, always friendly, not a mean bone in his body. He will be sorely missed but it is comforting to think that he is already chasing mice in cat heaven. He weighed more than 6kg in his prime. When he passed away yesterday morning he barely made 3kgs.
Fare thee well, Rambo. You will be in our thoughts forever !


This morning again saw a layer of snow. It was still minus 1 when I took the Psychlo-X out for an easy LSD ride. The skies were open but soon the sun would take shelter behind clouds. Still it remained dry throughout the entire ride. I adjusted the handlebar a little so that the Campagnolo Chorus shifter/brake combo was facing straight ahead, leaving me with a horizontal pad to place my hands. Passing through Bierbeek and Opvelp I tackled the climb towards Beauvechain on the big ring. Although big ring on this bike only means 46 tooth. Turning to the ride towards Tourinnes and then through Hamme Mille and Nethen to Sint Joris Weert. Closing my loop over the Zoete Waters and Vaalbeek I was glad to be indoors again. Even though there was no wind and in all the conditions were not too bad. But my body is yearning for spring. Some milder temperatures would be appreciated.


Endomondo track


Ride Stats : 32K and 230 heightmeters (Garmin) in 01h17mins

When I got home I added half an hour of Tacx Satori to this days' mileage. My legs felt good with the easy resistance and high rpm. A great way to cooldown and warm up after an outdoor ride.

Ride Stats : 22K in 00h31mins

3523/8280
29-03-2013, 12:12 geschreven door Big Bad Wolf